Lack of local land rights harms fight against poverty, climate change - researchers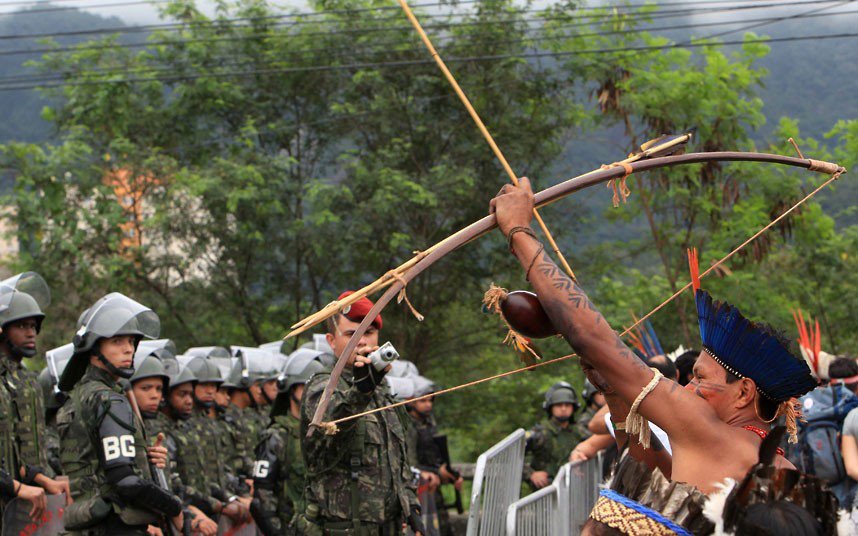 Trust | 30 September 2015
Lack of local land rights harms fight against poverty, climate change - researchers
by Megan Rowling
Indigenous people and local communities lack legal rights to almost three quarters of their traditional lands, sparking social conflict and undermining international plans to curb poverty, hunger and climate change, researchers said.
A study released on Wednesday by the Rights and Resources Initiative (RRI) showed that 10 percent of land in 64 countries analysed is owned by indigenous people and local communities, and 8 percent is controlled or managed by them.
Yet they claim or have customary use of as much as 65 percent of the world's land area.
The new figures highlight "the catastrophic failure of governments to respect the basic land rights of more than 1 billion people", said Andy White, coordinator of RRI, a global coalition working on forest policy.
"Now there is absolutely no mystery why there is so much conflict in the rural world, and why there is so much violence over investments and agriculture and mining in those areas," White told the Thomson Reuters Foundation.
The first of 17 new global goals adopted by the United Nations on Friday, on ending poverty, commits to ensuring that all men and women, in particular the poor and the vulnerable, have equal rights to ownership and control over land by 2030.
White said that most of the Sustainable Development Goals (SDGs) were connected with land, because it is the basis of survival for the world's poor.
The RRI study showed the huge disconnect between local people and governments over land rights, he said.
"It's very clear now that the SDGs will fail unless governments address this crisis," he said.
The countries studied for the RRI report cover 82 percent of global land and different types of ecosystem from forests to drylands.
Twelve of them are included in the World Bank's list of fragile countries, and in these, only 2 percent of the land is controlled by indigenous peoples and local communities, and a fraction of 1 percent is owned by them, the report said.
White said this highlighted the importance of tackling land rights issues in efforts to help countries recover from war.
In Liberia, for example, the government has been working on a draft Land Rights Act that would formally recognise customary tenure without titling. But there are concerns this may not apply to commercial concessions already agreed, which cover around three quarters of the country's land, the report said.
LAWS NOT ENFORCED
At a conference in Bern, Switzerland, on strengthening community land rights, experts said laws and policies exist, and court decisions are made, to enforce those rights, but governments often ignore them.
Victoria Tauli-Corpuz, U.N. special rapporteur on the rights of indigenous peoples, said she had seen a "retreat" in implementation by governments - from the Philippines to Brazil, India and Paraguay - causing increased conflicts over land ownership, use and management.
"Indigenous rights are sacrificed by governments when they enter into ... investment and free trade agreements," she said.
Tauli-Corpuz blamed the dominant economic model of growth, "incessant" consumption and unsustainable production patterns for ongoing displacement of indigenous peoples and violations of their human rights.
"States comply more with investment and free trade agreements because these have heavier sanctions in terms of economic payments," she said. "But for the human rights conventions, there are no such sanctions ... and that is one of the weaknesses."
Past studies have found that forest dwellers and other local communities conserve their territories best, preventing planet-warming carbon emissions from trees and the soil and thus slowing climate change, the RRI said.
The report said that around two thirds of the lands recognised as owned or controlled by indigenous peoples and local communities are found in just five countries : China, Canada, Brazil, Australia and Mexico.
Nearly 90 percent of the countries studied have at least one law on the books that could be used to legally recognise land rights, it said.
In 2013, for example, Indonesia's Constitutional Court ruled government control of customary forests invalid. If implemented, this judgment could increase the amount of land controlled by local people from 0.25 percent of national territory to around 23 percent, the report said.
"Without rights to the lands that we live on, indigenous peoples in Indonesia get pushed aside without free prior and informed consent, for industrial projects like palm oil plantations and strip mines," said Rukka Sombolinggi of the Indigenous Peoples Alliance of the Archipelago (AMAN).
White said a small number of companies had begun to realise that riding roughshod over communities would harm their investments, and were seeking fairer deals with those living on the land they want to exploit.
A separate analysis, released by consultancy TMP Systems, showed that of 262 agriculture, energy and mining sector disputes, conflicts with local populations had a materially significant impact on investors in 67 percent of cases.
A campaign to double the area of land recognised as owned or controlled by indigenous peoples and communities by 2020, backed by a coalition of groups, will kick off early next year, development charity Oxfam told the Bern meeting.
---