Malaysia threatens to freeze out EU over palm oil ban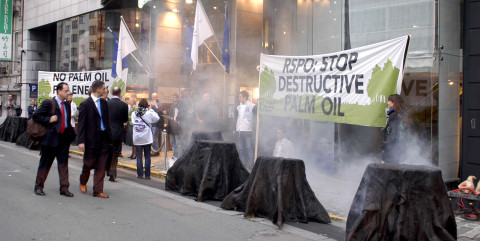 Nikkei Asian Review - 28 January 2019
Malaysia threatens to freeze out EU over palm oil ban
KUALA LUMPUR — The Malaysian government said that a recent regional agreement to upgrade relations with the European Union should be deferred due to an ongoing trade dispute over palm oil, where the EU has been moving to ban the use of palm oil in biofuels, citing deforestation as a reason.
Malaysia and other nine members of the Association of Southeast Asian Nations, or ASEAN, and the EU issued a joint statement on Jan. 21 to upgrade their long-standing relations to a "strategic partnership," a term that usually denotes cooperation on a wider scale.
But Malaysia later on said that the plan should be put on hold given the EU's treatment of palm oil imports that could adversely affect it and its neighbor Indonesia as both produce some 85% of global output.
"Indonesia put forward the same recommendation," according to a statement from Malaysia's Ministry of Foreign Affairs.
Both countries have continuously spoken out against an EU nonbinding resolution that was passed in 2017 to ban the use of palm oil in biofuels by 2020.
The EU is the second largest buyer of Malaysian palm oil, after India, importing 1.9 million tons, according to the Malaysian Palm Oil Board. That represents 11.6% of Malaysia's total exports.
Even though the EU resolution is not a legislative initiative that needs ratification, some member countries like France have taken steps within its jurisdiction in December to clamp down on the use of palm oil in biofuels by withdrawing tax incentives. Malaysia claimed such measures to be "discriminatory" as it indirectly favored Europe's homegrown products like rapeseed and sunflower oils.
In the same month, Norway, a non-EU country also adopted a similar measure, intensifying the pressure on palm oil producers.
Indonesia, whose 5 million farmers depend on palm oil, has also spoken out against such steps. At the ASEAN-EU Ministerial Meeting in Brussels on Jan. 21, the country's representative defended palm oil's contribution to the United Nations Sustainable Development Goals.
"Refusing palm oil is the same as rejecting the SDG, which is a global agreement," A.M. Fachir, Indonesia's deputy foreign minister, was quoted as saying by state news agency Antara.
Malaysia has threatened to walk out of ongoing negotiations with the four-member countries of the European Free Trade Association, of which Norway is a part.
Palm oil producers have come under pressure in recent years as stock began to pile up on lower prices. The average crude palm oil prices traded in Malaysia fell by 20% annually last year to 2,232 ringgit ($540) per ton, according to CGSCIMB Research.
The research company expects the crude palm oil prices to average around 2,400 ringgit this year. China, once the largest buyer of Malaysian palm oil, has been consuming less in recent years as economic growth slowed.
In a recent promotional video on the use of palm oil, Prime Minister Mahathir Mohamad brushed off the global rebuff and dismissed allegations of deforestation and dietary harm.
"I do consume palm oil as the preferred oil when the cook prepares food for me," said the 93-year-old leader.
---