Malmström issues plan to improve implementation of sustainability chapters in EU trade deals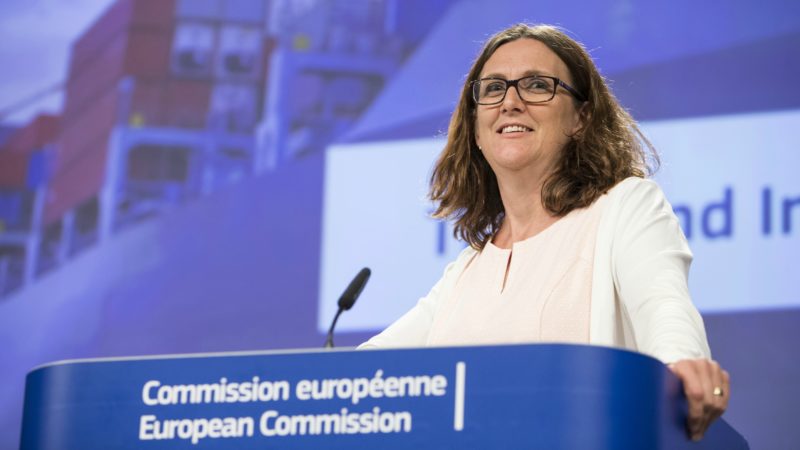 ICTSD | 1 March 2018
Malmström issues plan to improve implementation of sustainability chapters in EU trade deals
The EU's top trade official released on Tuesday 27 February a plan examining how the bloc can make sure the sustainable development chapters in its trade deals can be applied more effectively. The plan deals with issues such as civil society engagement, implementation and enforcement, and the role of climate action.
The 12-page document was issued after an informal meeting of trade ministers from EU member states in Sofia, Bulgaria, and was presented as the result of over six months of talks with various stakeholders.
"This represents a revamped approach to our current policy – a collective commitment to reinforce and do more with the tools at hand. I am confident that these actions can be quickly implemented to drive progress for the respect of labour and environment goals," said Cecilia Malmström, the EU Trade Commissioner.
The document notes that the EU's goal in including sustainable development chapters in trade deals "is to maximise the leverage of increased trade and investment on issues like decent work, environmental protection, or the fight against climate change in order to achieve effective and sustainable policy change."
The EU's executive arm also pledged to continue discussing other ways to make sure that these chapters are being implemented properly, including EU lawmakers, member state officials, and others in the discussion.
On implementation and enforcement, the document rules out using a "sanctions-based model" as an enforcement tool, noting that there were differing views on the subject when consulting stakeholders. They also noted the challenges other countries have faced in using such an approach to enforce their sustainable development chapters, suggesting that doing so has meant sacrificing some of the breadth of those chapters' coverage.
"Negotiating partners have been clear that they would not accept a broad scope combined with trade sanctions," the document says, while stating that improving enforcement is a priority going forward. In a separate section on that subject, the document notes that several stakeholders "complained that the existing dispute settlement mechanism has so far not been triggered," and suggested that the EU's executive arm will take further steps to improve the monitoring of implementation.
Climate action, international deals
The text devotes a section to how the bloc should address international accords such as the UN's Paris Agreement on climate change, along with International Labour Organization (ILO) conventions and multilateral environmental agreements (MEAs).
Traditionally, the sustainable development chapters in EU trade deals have made reference to both ILO conventions and MEAs, with these international standards helping ground the rest of the trade deal-specific provisions introduced in that chapter.
The Commission said that its feedback from stakeholders was to continue grounding its sustainable development chapters in the multilateral agreement context, along with taking steps to boost its work with international bodies to ensure that these multilateral deals are better understood.
"This approach can help to avoid any risk of introducing parallel labour and environmental standards and being seen as undermining the multilateral governance in these areas," the document says.
Along with referring to climate action within the context of MEAs, the document also includes a section devoted specifically to climate change, saying that "there were clear calls throughout the debate to support climate action."
It also notes that newer trade deals will include "stronger and more detailed provisions" on climate action in light of the Paris Agreement, referring to the bloc's latest deals with Japan, Singapore, and Vietnam as examples where this is already being done.
"These will (i) reaffirm a shared commitment to the effective implementation of the Paris Agreement, (ii) commit the parties to close cooperation in the fight against climate change, (iii) and commit the parties to agree on and carry out joint actions," the document indicates.
It also puts forward a series of areas that the EU and its trade agreement partners could aim to work on to support their climate action commitments. Among these includes highlighting the role of smaller and medium-sized companies in the field of clean technology; working together on different trade aspects of climate action; and making it easier to invest in and trade in goods and services involving renewables and energy efficiency.
EU officials have already indicated in public statements over recent weeks that climate action will continue to be a hallmark of its sustainable development chapters, and that this includes reaffirming the Paris Agreement. The issue was raised in response to questions over whether the EU might seek to renew formal negotiations on a trade deal with the US, given that the current American administration has indicated that it plans to pull out of the UN climate agreement at the federal level as soon as possible. (See Bridges Weekly, 15 February 2018)
Labour rights and responsible supply chains
Two sections of the Commission non-paper address how the EU envisions its approach to labour provisions and responsible supply chains going forward.
On the former, it notes that the EU has been looking to include a wider scope of topics relating to labour rights, including on supply chain management and different aspects of working conditions, building on what it has achieved in its trade agreement with Canada. That agreement is provisionally in force, minus some sections that require ratification from EU national and regional legislatures.
The document suggests that the EU is negotiating with that wider scope in mind in its discussions for an updated EU-Mexico deal, along with talks for a long-awaited agreement with the Mercosur trading coalition. Its negotiations with Indonesia, one of the 10 members of the Association of Southeast Asian Nations (ASEAN), have also been conducted under that approach.
Separately, the EU's executive arm confirmed that it is working on a project with the ILO and the Organisation for Economic Co-operation and Development (OECD) focusing on responsible business conduct in supply chains. The current project, funded to the tune of several million euros, has focused on select Asian economies of varying sizes, from smaller developing nations like Vietnam to major emerging economies like China and advanced economies such as Japan. It also is looking to do the same with Latin America and perhaps beyond.
Civil society, EU institutions engagement
Throughout the document, the role of civil society, EU member states, and the European Parliament are cited repeatedly as areas for growth. This includes having "domestic advisory groups" of civil society groups look at the sustainability aspects of EU trade deals as a whole, rather than focusing only on the chapter devoted specifically to that subject.
The document also suggests taking further steps to make it easier to coordinate both among the Commission, EU member states, and the European Parliament, as well as with EU officials based in countries where the bloc has an FTA, for example.
Overall, Malmström said while promoting the new plan, ""I feel encouraged by the big interest shown in ensuring that EU trade agreements actually deliver in terms of sustainable development," given the high level of engagement from stakeholders as the EU's executive arm was developing this new approach.
---