Ministers aim to wrap up services trade deal in early December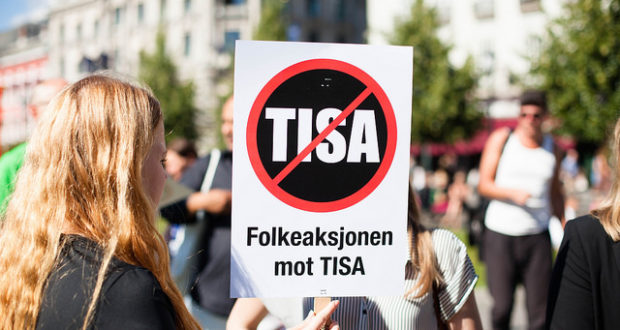 Reuters | 26 September 2016
Ministers aim to wrap up services trade deal in early December
By Tom Miles
Countries negotiating an international agreement on trade in services plan to meet in early December to try to finalize the deal, U.S. Ambassador to the World Trade Organization Michael Punke told reporters on Monday.
The Trade in Services Agreement (TiSA), which would provide stronger international rules for sectors such as communications and banking, is being negotiated among 23 WTO members, including the 28-country European Union, that account for 70 percent of global services trade.
"The TiSA ambassadors met today and agreed to a ministers' meeting on Dec. 5 and 6 in Geneva to conclude TiSA," Punke said, adding: "Establishing 21st century trade rules for services, for 70 percent of the globe's services economy, is a big deal."
Trade negotiations tend to fill all the negotiating time available — and then some, and Punke said he still expected "lots of wrangling" before the deal was agreed by all.
"It's not a slam dunk, these things are never slam dunks, but I think there is a sense that after this week that there was a real shift toward a real endgame push. There's an aggressive schedule that's laid out that I think will allow us to do that."
TiSA's supporters say it fills a void left by the failure of the WTO's Doha round of trade talks, which was supposed to reform not only trade in goods such as manufactured items and farm produce, but also services, which were much more loosely regulated by the WTO rules in force since 1995.
TiSA's advocates hope that it will create a model that others will want to join. Its members include Australia, Canada, Chile, Taiwan, Israel, Japan, South Korea, Mexico, New Zealand, Norway, Pakistan, Panama, Peru, Switzerland and Turkey, and China has said it is interested in joining.
But its opponents say it will lower standards for the sake of big business. Environmental activist group Greenpeace has said TiSA would lock in low environmental standards and undermine national efforts to tackle climate change.
TiSA would mean fewer barriers to trade and much greater certainty, guaranteeing the stability that underpins business decisions, Punke said.
"There are lots of places in services right now where the markets are relatively open, but they're not based on any rules or guarantees. And so you don't know as a trader whether or not the rules can change.
"What TiSA has the potential to achieve is creating that stability."
---