Negotiators question EU commitment to services deal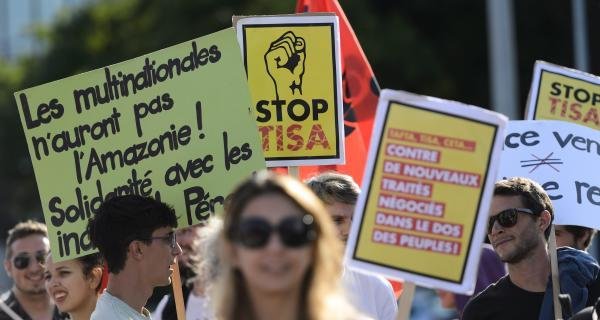 Bloomberg | 4 November 2016
Negotiators question EU commitment to services deal
By Bryce Baschuk
Negotiators working to increase market access for services are beginning to question whether the European Union is capable of forging a multi-trillion dollar services agreement this year.
Brussels won't agree to provide nondiscriminatory treatment to "new services," which include those that haven't yet been created, EU Trade Ambassador Marc Vanheukelen confirmed during a Nov. 4 Trade in Services Agreement (TiSA) plenary meeting in Geneva.
U.S. and Japanese ambassadors at the meeting criticized the EU for drawing a red line on any "new services" provision, which would prevent countries from discriminating against emerging services sectors such as social networking or artificial intelligence.
The EU's reluctance to agree to TiSA provisions regarding new services and digital services has persuaded some participants to consider the merits of a TiSA deal that excludes the EU entirely, several negotiators told Bloomberg BNA after the meeting.
Excluding the EU from TiSA would prevent liberalization of Europe's $11.6 trillion services market to the detriment of major EU-based companies such as Deutsche Bank AG, Deutsche Telekom AG, Ernst & Young SA, HSBC Holdings Plc and Orange SA, among others.
Digital Breakdown
TiSA negotiators also criticized Brussels for failing to engage on a key U.S. initiative to permit unhindered data transmissions across national borders and curb forced data localization rules.
EU trade officials sought to formulate a policy on cross-border data flows, but their proposal has been stymied by a political conflict between the European Commission and the European Parliament.
"Many participants have concluded that the EU is not in a position to do a 21st century trade agreement on digital services," a senior participant told Bloomberg BNA after the Nov. 4 meeting. "Having come to that realization, everyone is now grappling with the implications."
When asked to comment, Vanheukelen said the idea of excluding the EU from TiSA "verges on propaganda."
"With regard to national treatment of new services, many understand our concerns and there is willingness to see if there is a creative solution," Vanheukelen told Bloomberg BNA.
"On digital trade, it is true that we are taking longer than expected to come out with our data flow proposal," he said. "Today's politics of trade are fraught, not only in Europe. Better take the necessary time and get it right than make haste and derail."
Trillions at Stake
The goal of the TiSA negotiations is to forge an accord this year that updates the 1994 WTO General Agreement on Trade in Services (GATS) by increasing market access for more than a dozen services sectors among 23 negotiating parties.
The deal seeks to liberalize trade for 70 percent of the $55 trillion dollar global services marketplace, but excluding the EU could reduce the overall impact of the deal for U.S. services companies like 21st Century Fox Inc., American International Group Inc., AT&T Inc., Citigroup Inc., MasterCard Inc., United Parcel Service Inc., Verizon Communications Inc., Visa Inc., Walmart Stores Inc. and the Walt Disney Co., among others.
The EU's services marketplace is a crucial driver for European jobs and revenue and is valued at $11.6 trillion per year—or 71.3 percent of the EU's total gross domestic product.
A TiSA deal that does not include the EU may still be attractive for U.S. companies such as Alphabet Inc., Amazon Inc., Apple Inc., Facebook Inc., International Business Machines Inc. and Microsoft Inc., and it would extend and bolster the services concessions established in the Trans-Pacific Partnership to countries such as Turkey and Korea.
Market Access
Separately, TiSA participants said they were encouraged that the EU's revised market access offer provided concessions nearing the levels offered in its free trade agreement with Canada.
There are certain areas where the EU's offer fell short of the concessions in the EU-Canada Comprehensive Economic and Trade Agreement—such as transportation—but members acknowledged that it had improved significantly from the EU's June market access offer.
Negotiators said they were pleased Turkey had increased the level of their revised market access offer and disappointed that Pakistan has not yet submitted theirs.
The Pakistani delegation told Bloomberg BNA that their executive branch was still reviewing its offer and would soon circulate it to TiSA negotiators.
TiSA negotiators will begin technical discussions of the text and its annexes over the next seven days in preparation for their final meeting of the year, scheduled for Dec. 5-6.
---