Nigeria & Thailand negotiate bilateral trade agreement for rice production
Pattaya Daily News | December 14, 2009
Nigeria & Thailand negotiate bilateral trade agreement for rice production
John Weston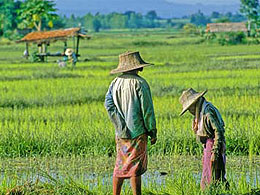 Recently the Thai Commerce Minister visited Nigeria were he discussed the proposal of a Bilateral Trade and Investment Agreement (BTIA) — primarily involving agricultural development — with the Nigerian Minister for Commerce and Industry.
Thailand, the 14th of December 2009 [PDN]: The Nigerian Minister for Commerce and Industry Mr. Achike Udenwa, released a statement on Monday morning announcing the continued co-operation between Nigeria and the Kingdom of Thailand in attempting to setup a Bilateral Trade and Investment Agreement in the field of commercial agriculture, primarily to do with rice production and processing in the African nation.
Minister Udenwa explained that due to Nigeria being the primary exporter of Thai rice worldwide it was only natural that they discuss setting up a BTIA. "During my meeting with the Thai Minister of Trade, he expressed his country's willingness to invest in commercial agriculture in Nigeria, particularly rice product and processing."
Subject to final approval the BTIA will also encompass the exporting of oil and gas to the Kingdom of Thailand as well as the aforementioned agricultural agreement. Mr. Udenwa stated, "with Thailand as the highest exporter of rice to Nigeria, it is expedient for both countries to seek better ways of greater collaboration in the production of the staple food," revealing that the majority of the agreement will be the, "establishment of rice farms by the Thais, in Nigeria's Free Trade Zones." The minister urged the signing of the BTIA to be completed immediately allowing construction of the processing and production plants to commence before the end of the first quarter in 2010.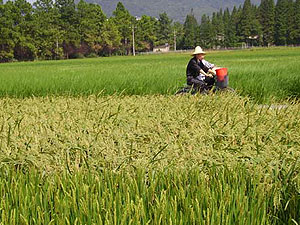 Thailand has the fifth-largest amount of land under rice cultivation in the world and is the world's largest exporter of the product. At present there are plans to add a further 500,000 hectares to the existing 9,200,000 hectares already growing rice. The most produced strain of rice in Thailand is jasmine rice, which is one of the highest quality rice types, although has a significantly lower yield rate than other strains. Jasmine rice consequently fetches significantly more than double the price of other strains available on the global market.
---