PNG Trade Minister opposes PACER Plus
Radio NZ | 18 January 2016
PNG Trade Minister opposes PACER Plus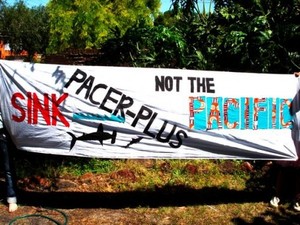 Papua New Guinea's government says it will not support the PACER Plus regional agreement on closer economic relations.
PNG Loop reports that PNG and Fiji, which have the two biggest Pacific Island national economies, are against the Australia and New Zealand-backed trade agreement.
PACER Plus negotiations began in 2009 and are yet to be concluded.
Australia's government describes PACER as an opportunity to help Pacific Islands countries benefit from enhanced regional trade and economic integration.
However PNG's Trade Minister, Richard Maru says he sees little benefit for PNG in it.
He says that in its current form, especially the push to remove tariffs and duties, PACER Plus will reduce employment opportunities and kill his country's manufacturing sector.
Mr Maru says that any trade agreement PNG enters into as a country must be to grow the private sector, manufacturing sectors and employment opportunities.
---