Singapore and Sri Lanka launch FTA talks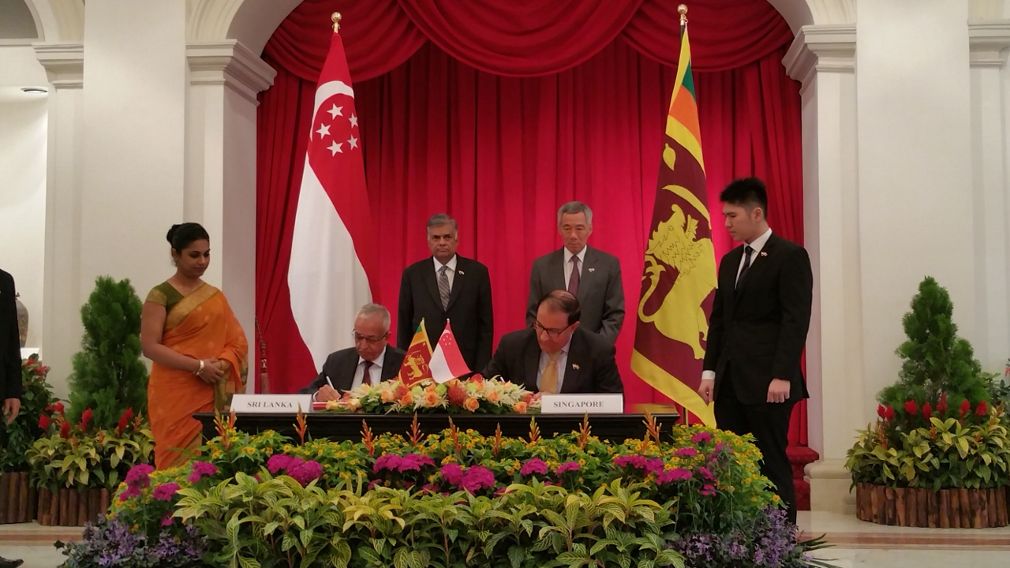 CNA | 18 July 2016
Singapore and Sri Lanka launch Free Trade Agreement talks
By Calvin Hui
SINGAPORE: Negotiations for a Sri Lanka-Singapore Free Trade Agreement (SLSFTA) are underway, the Ministry of Trade and Industry (MTI) said on Monday (Jul 18).
Minister for Trade and Industry (Industry) S Iswaran and his counterpart, Minister for Development Strategies and International Trade Malik Samarawickrama, signed a joint statement to officially launch the negotiations.
The signing was witnessed by Prime Minister Lee Hsien Loong and Sri Lanka Prime Minister Ranil Wickremesinghe, who is in Singapore from Jul 18 to Jul 19, 2016, for an official visit.
Said Mr Iswaran: "The launch of the SLSFTA negotiations signals the commitment of both governments to promote stronger economic ties and enhance trade flows by lowering barriers of entry and providing increased market access for Singapore and Sri Lankan companies.
"Amidst an uncertain economic environment, Sri Lanka offers good potential for Singapore companies looking to tap opportunities in new markets," he added.
BILATERAL TREATIES TO INCREASE OPPORTUNITIES
In his speech at the South Asian Convention 2016 that same day, Mr Iswaran said that there is demand for new and upgraded infrastructure across the South Asian region.
And while Singapore companies, such as Sembcorp and Prima Group, have already made inroads by investing in both India and Sri Lanka, he added that bilateral investment treaties is set to create more investment opportunities in the region.
For instance, the avoidance of double taxation agreements with South Asian partners serve to make investing in the region more attractive to investors in Singapore, he said.
"This network of economic connectivity agreements are an important foundation on which we can build the activities - not just on the infrastructure, but also deepening economic activity between Singapore and South Asia," said Mr Iswaran.
International Enterprise Singapore and the Ministry of Megapolis and Western Development of Sri Lanka also signed an agreement on Monday to collaborate on business development in Sri Lanka's Western Region Megapolis.
Bilateral trade between the two countries was S$2.05 billion in 2015, according to MTI, with local exports totalling S$1.9 billion that year, while Singapore's imports totalled S$146 million.
– CNA/am
---