Thailand-Peru FTA could be sealed next month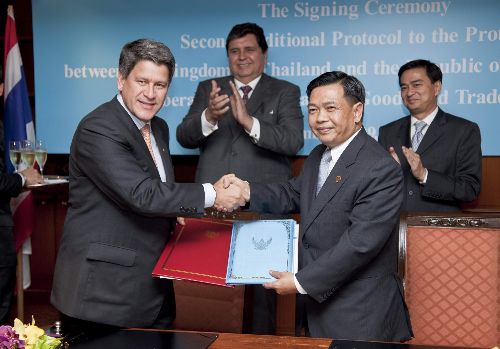 Andina | 22 July 2010
Thailand-Peru FTA could be sealed next month
Bangkok, Jul. 22 (ANDINA). The Thai government will propose the Parliament to endorse a bilateral free trade area agreement with Peru next month in order to enhance the effectiveness of trade pacts this year, according to Thai Commerce Minister Porntiva Nakasai.
Speaking after meeting with Jorge Castaneda, Peru's Ambassador to Thailand, Mrs Porntiva said the parliamentary endorsement of the pact with Peru and the approval of a free trade negotiation framework with Chile would help widen the country's export opportunities.
Thailand and Peru signed their first agreement on trade liberalisation and trade facilitation on November 2005. They later signed additional agreements on rules of origin, and a recognition agreement on fishery products. However, the agreements have not taken effect as they have not yet ratified by MPs.
Thailand and Peru started FTA talks in 2003. The two countries have already agreed to reduce import duties for about 70% of products traded, the Bangkok Post reported.
Products from Thailand that may benefit from zero tariffs in Peru include pickup trucks, electrical appliances, plastic and rubber products.
Negotiations on the liberalisation of sensitive items such as fishery products and some agricultural goods have not yet started, said Mrs Porntiva.
The Peruvian ambassador suggested Thailand set up a commercial consular office in Lima, the capital.
Peru is ranked 82nd among Thailand's trading partners with average bilateral trading value of US$180 million a year in the past five years. Exports from Thailand over the period averaged $114.7 million per year but dropped last year due to the sluggish global economy.
For the first five months of this year, bilateral trade was worth $142.11 million, up 244% year-on-year. Thailand's exports were worth $107.37 million.
Bilateral investment is still low. There is only one Peruvian investment in Thailand under Aje Thai Co Ltd to produce Big Cola soft drinks for sale in Thailand and other countries in the region.
---