TISA parties plan four rounds by July 2016 to advance priority annexes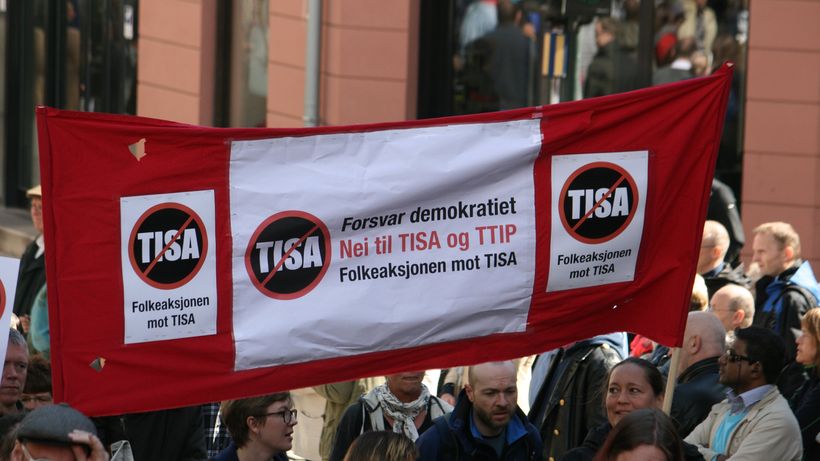 World Trade Online | 29 October 2015
TISA parties plan four rounds by July 2016 to advance priority annexes
The participants in the Trade In Services Agreements (TISA) have agreed to hold four more rounds of negotiations between November and mid-July 2016 in the hope of resolving all but the most politically difficult issues in four priority areas: financial services; domestic regulations and transparency; telecommunications and e-commerce; and the movement of natural persons, also known as "Mode 4," according to Geneva sources.
At the same time, sources said, TISA negotiators will focus on advancing market access negotiations, both during the rounds and in between sessions in bilateral meetings. During the most recent, eight-day round in October, negotiators as a group focused on market access intensively, Geneva sources said. But it is clear that much more work needs to be done bilaterally, they added.
The four priority areas are covered by specific "annexes" to the draft agreement and are the same issues that TISA participants have focused on since last year, though at one point they also covered maritime services (Inside U.S. Trade, June 20, 2014). In June 2014, TISA negotiators said they wanted to reach agreement on those five areas on all but the most controversial elements — and set a deadline for that effort of July 2015.
The fact that countries missed that target, and are pushing their deadline out by another year, demonstrates the difficulties that they have had in making progress in their negotiations. One Geneva official, however, said that there has been advancement in the key annexes in the interim, but acknowledged that key issues remain unresolved.
On market access, all participants except for Pakistan have handed in a market access offers, though some of the offers are not yet complete, Geneva sources said. For example, the U.S. offer only covers three modes of supply and leaves off the temporary movement of service supplier personnel. The U.S. has not offered an indication of how or whether it will improve its offer, a Geneva official said.
The U.S. has criticized the European Union offer as failing to reflect the broad TISA goal that each participant start by tabling an offer equivalent to its most ambitious free trade agreement. For the EU, this would be the Comprehensive Economic and Trade Agreement with Canada.
But the EU has countered by saying when it tabled its initial offer, its best FTA was its deal with South Korea, and that its offer reflects that agreement. It has also noted that the CETA has not been ratified.
The EU, at the same time, is holding open the possibility of improving its offer but has said this will depend on what concessions it can secure for its offensive interests. One important area of interest to the EU is government services procurement at the federal and sub-federal level, sources said.
One Geneva source said that TISA market access negotiations will need to pick up speed in order to give a boost to the effort to develop new services rules. Another official said this is true for a key outstanding issue in the TISA "core text," which is largely completed and incorporates key provisions of the General Agreement on Trade in Services (GATS).
The main outstanding issue in the core TISA text is whether participants would have to extend automatically to TISA members the market access commitments they give to third countries in future bilateral or regional free trade deals. The positions on this so-called MFN-forward provision could change depending on the quality of the market access offers, one Geneva source said this week. The MFN-forward issue pits the U.S., which favors it, against the EU and other participants who generally oppose it (Inside U.S. Trade, July 10).
The future timetable for the TISA effort stems from what Geneva sources describe as a "general desire" to wrap up TISA by end 2016. They however stopped short of declaring it a formal goal of the TISA negotiators, the way that Deputy U.S. Trade Representative Michael Punke did last week (Inside U.S. Trade, Oct. 23).
But no matter how this target is described, sources said meeting this objective will be a serious challenge, and that work in TISA needs to speed up to reach conclusion by the end of next year.
In the upcoming Nov. 29-Dec. 4 round, negotiators will focus on financial services and domestic regulation and transparency, in the hope of working out all but the most difficult issues that must be addressed at the political level.
The domestic regulation/transparency annex generally seeks to deal with the development and implementation of licensing and qualification requirements, and potentially technical standards as well. A draft text dated April 23 and released by Wikileaks on July 1 shows that participants disagree on the scope of this annex.
In the February round, work will focus on telecommunications/e-commerce and Mode 4 commitments, these sources said. Following that, negotiators have slated to hold talks in April that could deal with transport, such as maritime and air services, one Geneva source said. But he emphasized that has not yet been decided.
The fourth round in the series may take place in mid-July 2016, but that date is still subject to change, a Geneva source said.
The July 1 Wikileaks batch contains an telecommunications annex draft from April that shows countries fighting over whether the annex should apply to measures relating to access and use of public telecommunications networks or to measures related to value added services. TISA negotiators are still in the middle of that fight, one official said this week.
On e-commerce, the U.S. has been trying to break new ground by including an obligation for governments — when they liberalize a services sector — to also provide for the free flow of related data across borders as inherent in that market access commitment.
A U.S. industry source said that putting this link between a services concession and the free flow of data into the sectoral annex legal text avoids a country having to affirmatively establish that link or even adjudicate it.
The issue of data transfer also arises in the context of the financial services annex, but a Geneva source said it is likely to remain open until the U.S. and EU have reached a new arrangement after the European Court of Justice invalidated the U.S.-EU Safe Harbor arrangement.
One source close to the negotiations said that data flows may be one of the issues in the e-commerce text that cannot be solved at the technical level.
On Mode 4, Geneva sources expect the U.S. not to make any new commitments on movement of natural persons. However, U.S. Trade Representative Michael Froman in April sidestepped demands by two senior Republican senators to guarantee that future trade agreements negotiated by the Obama administration, including the Trade in Services Agreement and a trade deal with the European Union, will not change U.S. immigration or visa policy. He committed that the Trans-Pacific Partnership deal would not do so (Inside U.S. Trade, April 24).
A draft text for a number of the TISA drafts leaked by Wikileaks in July show many brackets connoting disagreements, particularly for the Mode 4 annex for services personnel.
But the Mode 4 text, dated April 8, does not have brackets around a provision in the annex that says it "shall not apply to measures affecting natural persons seeking access to the employment market of a party, nor shall it apply to measures regarding citizenship, residence or employment on a permanent basis."
More TISA rounds are also expected between July and the end of 2016, which may leave time to deal more substantively with proposals other than the priority areas, sources said.
For example, the U.S. and EU during this month's round put forward a joint proposal on competitive delivery services. It faced some opposition from Japan and Korea, which sources said want to protect their postal monopolies, and little reaction from other TISA participants.
As a result, one Geneva source said that the joint U.S.-EU proposal has little or no support. But another official, while acknowledging the sensitivities of Japan, said the fact alone that U.S. and EU are backing the proposal means it has "very strong support." This source said the scope of the competitive delivery proposal has been clarified to include the delivery services offered by couriers and postal services.
The text is based on a 2013 U.S. competitive delivery services proposal that went beyond the U.S.-Korea Free Trade Agreement by going into such areas as logistics. The EU objected because it did not cover competitive delivery services offered by postal services, for example (Inside U.S. Trade, Nov. 15, 2013).
Also needing to be addressed are the rules of a maritime services annex, which is a very sensitive issue for the United States. Maritime services will likely be packaged into one proposal with other transportation services, such as special air services like aerial firefighting, sources said.
The ability of the U.S. to make maritime services market access concessions is curtailed by the Jones Act, which the Obama administration has vowed not to change in trade negotiations. As a result, some Geneva sources speculated the U.S. is unlikely to make any market access concessions in that area.
A leaked annex on international maritime services that was part of the July 1 Wikileaks release shows virtually every paragraph bracketed. This included the definition of the term maritime services, with some proposing that it cover cargo or freight and others seeking a definition that would cover transport of passengers between ports of two signatories. The text offers a third definition as "multimodal transport operations."
The leaked maritime text also showed that there is less disagreement on the definition of maritime auxiliary services, such as cargo handling, storage and warehouse services, and customs clearance services (Inside U.S. Trade, June 6).
Inside U.S. Trade - 10/30/2015 , Vol. 33, No. 42
---