Turkey, Singapore ratify free trade agreement in significant bilateral milestone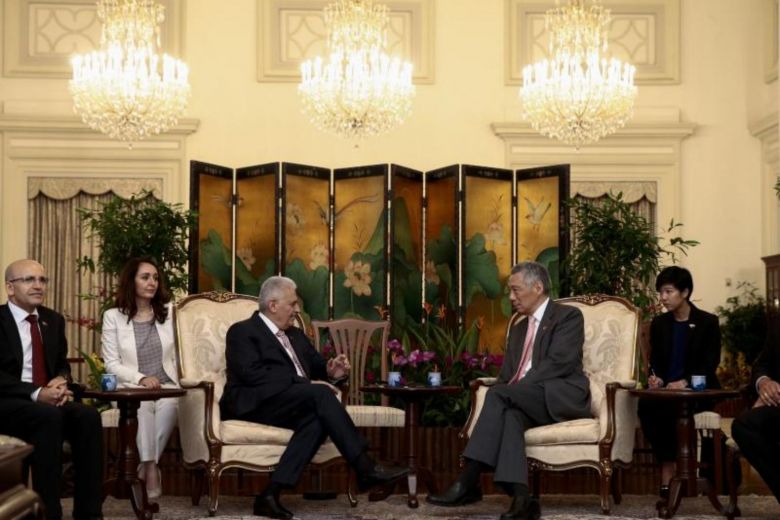 Straits Times | 21 Aug 2017
Turkey, Singapore ratify free trade agreement in significant bilateral milestone
Reme Ahmad
South-east Asia Editor
SINGAPORE - Turkey and Singapore announced on Monday (Aug 21) that they have ratified a bilateral Free Trade Agreement (FTA), hitting a new milestone in their relationship.
The agreement, which will come into force on Oct 1, was announced at a news conference at the Istana by Prime Minister Lee Hsien Loong after meeting Turkey's Prime Minister Binali Yıldırım.
The Turkey-Singapore FTA (TRSFTA) signed in November 2015 is a comprehensive agreement that covers a wide range of areas including good and services, e-commerce, competition and transparency.
""I look forward to the FTA entering into force soon," PM Lee said. "TRSFTA is another significant milestone in our bilateral relations."
PM Yildirim said bilateral trade has been on the rise and he was confident the FTA will lead to higher trading volumes between the two nations.
Mr Yildirim is the second Turkish prime minister to visit Singapore following the official visit of Mr Recep Tayyip Erdoğan in 2014.
Singapore-Turkey relations have grown steadily, especially after the two countries signed a Strategic Partnership in 2014. The two nations, gateways to their respective regions, will celebrate the 50th anniversary of the establishment of diplomatic relations in 2019.
Bilateral trade has crossed the S$1 billion mark annually since 2007.
In 2016, Turkey was Singapore's 46th largest trading partner with total trade in goods amounting to S$1.41 billion.
Last year, imports of goods from Turkey amounted to S$753 million and mostly comprised petroleum oils, turbo propellers and parts, and semi-manufactured silver.
Singapore's exports to Turkey during the same period totalled S$657 million, comprising mainly polyethylene and turbo jet components.
Turkish direct investment in Singapore was S$135 million as of 2015, while Singapore's direct investment into Turkey as of 2015 was S$218 million.
Today, apart from trade and investment, the two countries have cooperated in areas such as defence, counter-terrorism, education and provision of technical assistance to other countries.
The Ministry of Trade and Industry said in a statement that the TRSFTA "will help more Singapore companies to leverage Turkey's strategic location as a gateway to the larger regional markets in Europe, Central Asia, the Middle East and Africa.
"Turkish firms are also encouraged to use Singapore as their base to seek opportunities in the rapidly growing Asean region and beyond."
PM Yıldırım last visited Singapore in 2008 to attend the Singapore Airshow in his capacity as Minister of Transport.
He will later on Monday deliver the 41st Singapore Lecture, titled "Turkey-Singapore Relations: Building a Smart Strategic Partnership". The lecture will be chaired by Deputy Prime Minister Tharman Shanmugaratnam.
---