Ukrainian chances of clinching EU deal begin to fade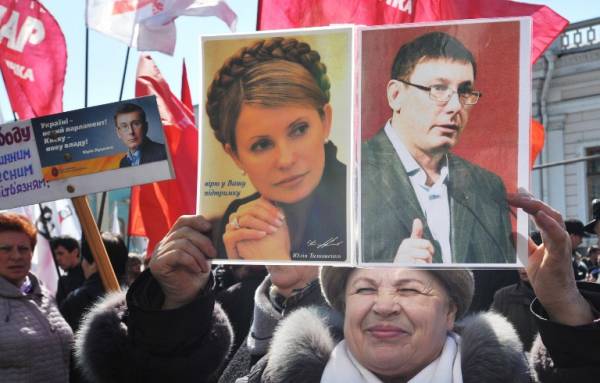 AFP | 13.11.2013
Ukrainian chances of clinching EU deal begin to fade
KIEV - Pessimism grew Wednesday over Ukraine's chances of clinching an historic EU deal after a key industrial group asked for a one-year delay and deputies appeared unable to agree a bill to free jailed ex-premier Yulia Tymoshenko.
Ukraine's Verkhovna Rada is due to meet for an extraordinary session later Wednesday in a bid to agree legislation that would allow the release of Tymoshenko for treatment abroad, a key condition for Ukraine's signing of the EU Association Agreement.
But many opposition figures were already giving up hope that President Viktor Yanukovych ever wanted the deal signed and Tymoshenko accused her arch rival of "kicking to death" the EU agreement.
In an unexpected intervention, Ukraine's union of industrialists and businessmen late Tuesday called on Yanukovych to delay the signing of the deal by one year, saying it was damaging trade relations with Russia and Kazakhstan.
In televised remarks, Yanukovych told the industrialists that he took their concerns seriously. "I will attentively read your letters and suggestions. I share your concern about the situation in the country."
According to his press service, Yanukovych ordered the government to examine the issue on Wednesday.
Meanwhile, Ukrainian media said that Yanukovych's Regions Party and the opposition had failed to agree on a joint bill that would allow Tymoshenko to leave Ukraine for treatment of her back pain in Germany.
This means the Rada may be unable to pass the legislation on the issue in what risks being a fractious session.
The prospect of Ukraine signing the agreement had infuriated Moscow, which wants Kiev to join its Customs Union with Belarus and Kazakhstan, and has raised the prospect of retaliation on the already battered Ukrainian economy.
Prime Minister Mykola Azarov promised that he and the president "would do all we can to restore normal trade-economic relations" with Russia, his press service said.
'Yanukovych never wanted the deal'
The Association Agreement is a free trade deal and marks a first step on the road to EU membership. If signed, it would mark an historic integration of the country of over 40 million with Europe and also a break from Kiev's former Soviet masters in Moscow.
Ukraine could sign the agreement at the EU's Eastern Partnership summit in Vilnius on November 28-29 but it must show it is able to do so in the coming days ahead of a meeting of EU foreign ministers next Monday.
Its EU integration hopes had already been dealt another blow by a sudden criminal probe opened against Tymoshenko's lawyer Sergiy Vlasenko on suspicion of beating his now ex-wife in 2010.
Vlasenko was allowed to go free on bail but Tymoshenko's supporters decried the probe as brazen political repression at the crunch moment for the EU agreement.
"Viktor Yanukovych has in the last weeks already been kicking the Association Agreement to death. The opening of a case against Sergiy Vlasenko has been done so cold-bloodedly and methodically as the last blow to Ukrainian hopes," Tymoshenko said in a statement read by her daughter Yevgenia.
Opposition leader Arseniy Yatsenyuk has already called for an investigation into whether Yanukovych committed state treason by travelling to Russia at the weekend for apparently secret talks with Russian President Vladimir Putin.
Almost no details have filtered out about the mysterious visit with the Ukrainian foreign ministry saying only that the two sides discussed economic cooperation in the context of the Vilnius summit.
"Right from the start Yanukovych did not want to sign anything with the European Union," Tymoshenko's ally Yatsenyuk wrote bitterly on Twitter. "He played and outplayed even himself."
The European Parliament's two special envoys, Poland's former president Aleksander Kwasniewski and former European Parliament president Pat Cox, were expected in Kiev on Wednesday to give Ukraine a final chance to show it had made progress.
Signing the Association Agreement has been held up by the 2011 jailing of Tymoshenko for seven years on contested abuse of power charges she says were ordered as political revenge by Yanukovych.
---