Vietnamese PM called for PTA, FTA with Iran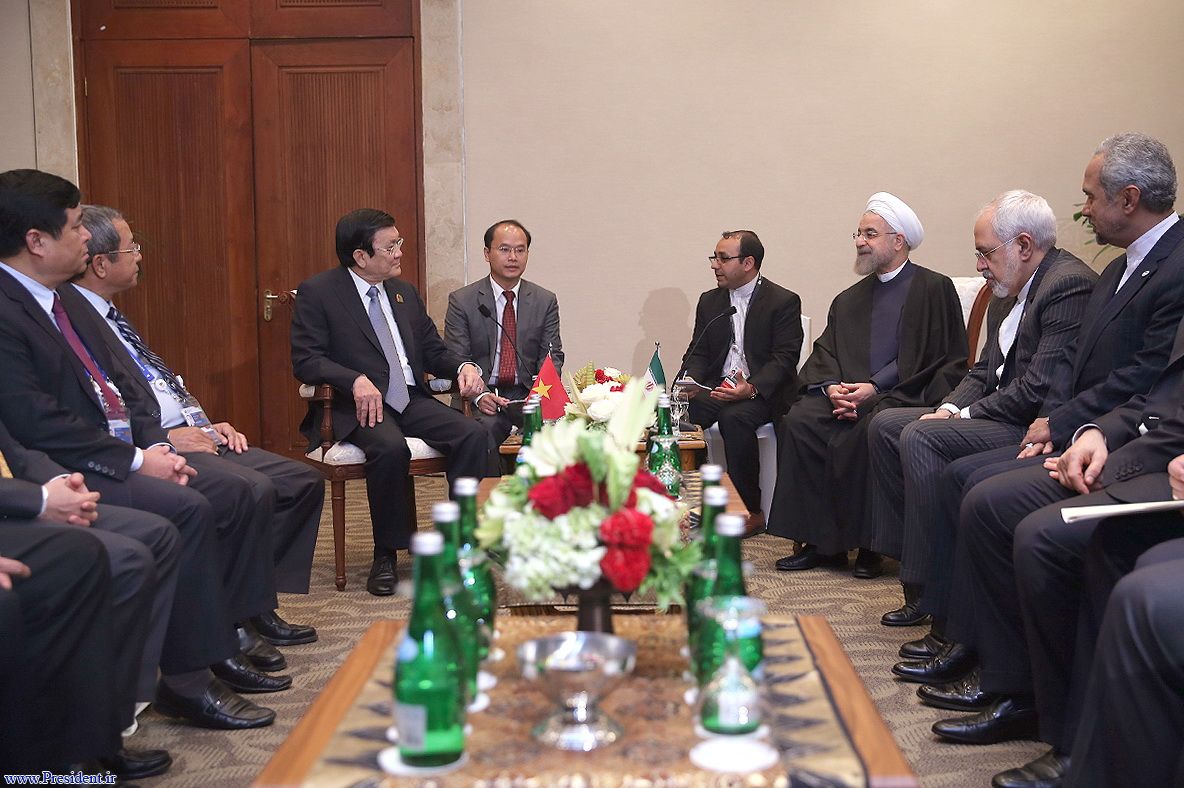 Mehr | 6 October 2016
Vietnamese PM called for PTA, FTA with Iran
TEHRAN, Oct. 06 (MNA) – Visiting President Rouhani of Iran met with Nguyễn Xuân Phúc, the Prime Minister of Vietnam on Thursday in Hanoi and the two conferred on ways to expand trade and economy cooperation.
"Both Iran and Vietnam enjoy extended potentials of cooperation and it would benefit both nations to capitalize on them," said President Hassan Rouhani of Islamic Republic of Iran on Thursday while meeting with Nguyễn Xuân Phúc, the Prime Minister of Vietnam, at noon in Hanoi.
The two officials discussed the ways to enact the bilateral agreements signed and to broaden the areas of cooperation in the meeting that the ministers and political delegations of Iran and Vietnam were present at.
"The Islamic Republic of Iran is ready to provide the Vietnam's demands of steel and energy," underlined the Iranian president, "Vietnam can be a hub for developing Iran's economic presence in eastern Asia and Iran can be the door for Vietnam to a market of 400 million consumers."
Mr. Rouhani maintained that removal of anti-Iran sanctions after the landslide agreement of JCPOA (The Vienna agreement of July 14, 2015 between Iran and Sextet dubbed as the Joint Comprehensive Plan of Action) made a good ground for developing bilateral economic cooperation between Iran and Vietnam. He called for strengthening banking relations as a prerequisite of economic ties and trade interactions.
The Vietnamese Prime Minister, Nguyễn Xuân Phúc, in the meeting which was also attended by representatives of private sector companies of the two countries, reiterated that he would order all ministries and organizations of Vietnam to muster the initiative for a trade volume of higher than 2$ billion between Iran and Vietnam.
He also called for Preferential Trade Agreement (PTA) and Free Trade Agreement (FTA) with the Islamic Republic of Iran and his proposal was warmly welcomed by the Iranian side. Agricultural cooperation was another area of potential cooperation conferred on in the meeting.
Following the meeting President Rouhani and the accompanying delegation were accorded a lunch banquet offered by PM Nguyễn Xuân Phúc.
---