What lies beneath EU-GCC alliance?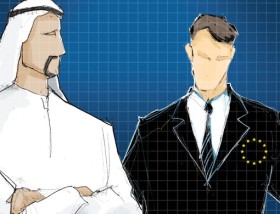 Gulfnews | August 18, 2008
What lies beneath EU-GCC alliance?
By Syed A. Basher, Special to Gulf News
The proposed cooperation between European Union (EU) and Gulf Cooperation Council (GCC) will be world's first region-to-region free trade agreement (FTA).
There are a number of interesting aspects concerning the new cooperation that deserve attention. But before we get ahead of ourselves, let us quickly browse through the history of the EU-GCC free trade agreement.
The EU-GCC framework was initiated in 1988 and it came into effect in 1990, and thereafter followed a decade of dormancy. The negotiations restarted in 2003 following the implementation of GCC custom union in 2003.
Since then free trade dialogues have accelerated with the historic visit by EU Trade Commissioner Peter Mandelson to the GCC in late February 2007. It is now believed that a final deal may be reached by early 2009.
How important is the trade agreement for GCC? And who will benefit more: EU or GCC? As is well-known by now intra-GGC trade accounts for about 10 per cent of total GCC's trade, which is expected to increase following the launch of the common market in January 2008. Yet, GCC relies heavily on external sources for trade. For example, in 2006 about 10 per cent of GCC exports went to EU, while 30 per cent of GCC imports came from EU. In this regard, GCC runs a trade deficit of around 17.5 billion euro against the EU, and the deficit is likely to widen further.
Balance of trade
Note that there is no problem with bilateral trade deficit with a country or region, as long as the total trade is balanced. In fact, GCC is currently running a trade surplus of around 40 per cent of gross domestic product (GDP), thanks to soaring oil prices. Neither it is the case that both GCC and EU will benefit from lower tariffs on the formation of FTA, as the average overall tariff is already lower and is around five and four per cent in GCC and EU, respectively. Further, energy (oil and gas) exports to EU are not directly included in the FTA negotiations, whilst the bulk of energy is exported to Asia. Then, in what ways the EU-GCC framework will affect both the regions, particularly the GCC?
Although GCC states have made significant progress in reducing the level of tariffs (from average 50 per cent in 2002 to present average around five per cent), they have failed to deal effectively with non-tariff barriers and the liberalisation of services and investment. Foreigners still have hard times buying shares in GCC stock markets or getting full ownership of businesses outside designated free trade zones. And this is where the proposed trade agreement can lead to an expansion of trade (the so-called 'trade creation') between EU and GCC.
As GCC states are vigorously promoting economic diversification, they can benefit from EU's expertise on education, banking, medical, and other service areas. EU is the world's largest exporter and second largest importer of services, and hence is globally competitive. But since GCC states are concerned about employability of local citizens in the private sectors, it is unlikely that GCC would completely open their service trade to foreign investors. In fact, GCC states are in a stronger bargaining position since both Asia and United States are also trying to negotiate an FTA with them. Therefore a big challenge for GCC is to negotiate an agreement that ensures productive efficiency of the service sector while simultaneously maintaining sustainable employment opportunities for local population.
By contrast, the interest of EU in GCC is not primarily economic, rather, it reflects geopolitical and security considerations. A security motive would be to ensure stable supply of oil and gas that will keep global economy rolling. A geopolitical concern is to get closer to the resolution of Arab-Israel conflict including more active participation from Iraq and Iran. EU is equally concerned about improving labour rights for which the GCC is globally infamous.
On balance, the GCC can take a lot from EU to meet the challenges of economic diversification process. Compared to both Asia and US, EU has the richest experience with managing and assisting regulatory reform in a variety of political system, in bureaucracy building and in harmonising regulations across borders. Simply signing trade agreement is insufficient. To exploit its potential, domestic-based firms need to become efficient to confront competitors both at home and in the EU. GCC governments should devise policies that encourage domestic investors to take advantage of the improved access to the EU market.
The author is a research economist at Qatar Central Bank. Views are author's own.
---