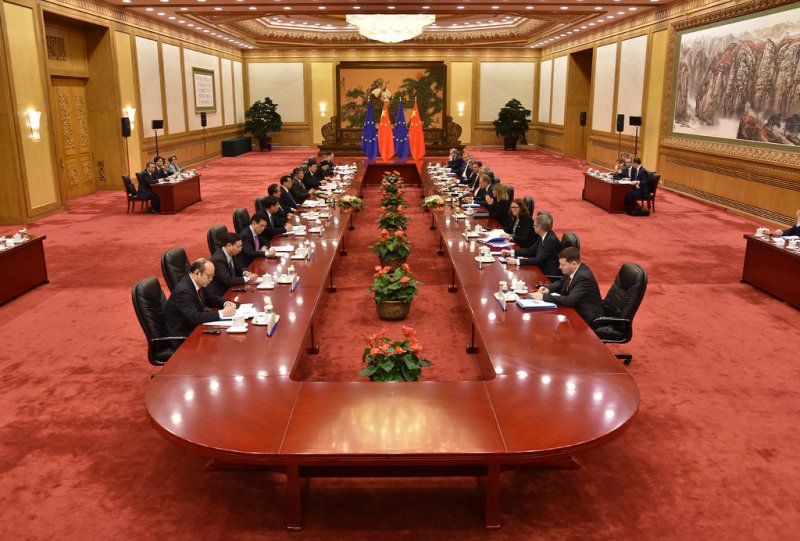 Since 2012, China has been trying to get the European Union to agree to initiate bilateral free trade agreement talks. China is absent from both the transpacific (TPP) and the transatlantic (TTIP) trade deals and wants "in" on a similarly large pact itself in order to avoid losing out on trade flows or to have to follow new "global" standards set by others. European firms, for their part, want greater openings into China and a more even playing field with domestic companies, especially State-owned enterprises.
In March 2014, Brussels agreed that once an EU-China investment treaty is concluded it will consider broader trade talks with Beijing. The investment treaty negotiations began just a few months prior, in November 2013. Once finalised, this BIT willl replace the 26 existing BITs that China has signed over the years with individual EU member states.
The EU is China's largest trading partner, while China is the EU's second export market.
July 2014
Photo: European External Action Service - EEAS / CC BY-NC 2.0
---
China and the European Union could start investment talks in the coming months, the Chinese ambassador to the EU said. China has also submitted a proposal on launching a feasibility study on a free-trade agreement with the EU.
China and the European Union (EU) have agreed to negotiate a bilateral investment treaty, said China's Minister of Commerce Chen Deming on Thursday.