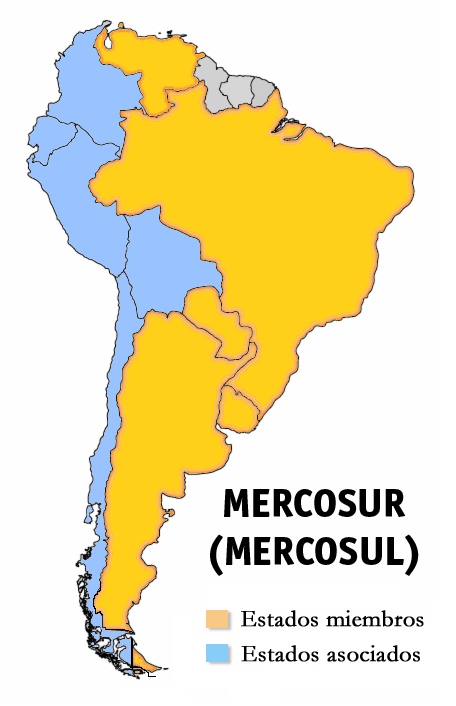 Mercosur, or the Southern Common Market, is a customs union between Brazil, Argentina, Uruguay and Paraguay. It was originally set up in 1991. Bolivia, Chile, Colombia, Ecuador and Peru have associate member status. Bolivia may be incorporated as a full member soon. In June 2006, Venezuela signed on as a full Mercosur member, although its membership still has to be ratified by the parliament of Paraguay.
As an instrument of subregional integration, Mercosur has been used to carry out important harmonization processes between the member states in areas such as intellectual property, agricultural policy and labour law. But the group is also plagued by internal conflicts.
Mercosur as a bloc is currently negotiating bilateral free trade agreements with other blocs such as CARICOM, the Andean Community, European Union, and the Gulf Cooperation Council. It is also seeking one with the Dominican Republic.
Mercosur signed an FTA with Israel in December 2007 (which entered into force in September 2011) and another with Palestine in December 2011 after the four members recognised its statehood.
The possibility of Uruguay's "breaking away" from Mercosur to sign its own FTA with the United States has created enormous tension within the group (not to mention within Uruguay). A similar situation exists with Paraguay.
last update: May 2012
Links

---

Mercado Común del Sur (MERCOSUR) is a common market between Argentina, Brazil, Paraguay, Uruguay and Venezuela.

Official website of MERCOSUR, a common market between Argentina, Brazil, Paraguay and Uruguay (in Portuguese and Spanish)