A closer look at East Asia's free trade agreements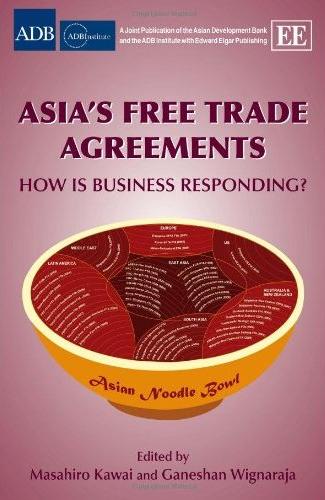 Asian Development Bank | Jan 21, 2011
East Asia—a latecomer in the use of free trade agreements—has emerged at the forefront of global FTA activity. To understand the effects of these on business, ADB and ADBI conducted firm-level surveys in six countries, the results of which are published in the book "Asia's Free Trade Agreements: How is Business Responding?" released on 21 January 2011. ADBI Dean and Chief Executive Officer Masahiro Kawai and OREI Principal Economist Ganesh Wignaraja, who edited the book, share their insights on the impact of FTAs in East Asia.
What developments prompted the publication of this book?
Slow progress in global trade talks has led to a surge in free trade agreements (FTAs) across Asia. With the Doha Round trade talks stalled, Asian countries see FTAs as a means to liberalize trade and sustain economic recovery in the region. The surge in the number of FTAs from 3 to about 50 in the last decade, with another 80 in the pipeline, has sparked concerns about the Asian noodle bowl—overlapping rules of origin requirements, which may be costly to business, especially small and medium-sized enterprises. Critics worry that this wave of agreements will undermine the multilateral liberalization process. Dealing with the Asian noodle bowl phenomenon is thus an integral item on the region's business and policy agenda for future trade- led growth.
However, the dearth of empirical evidence on the business impacts of FTAs made it difficult to resolve this debate and explore policy implications. We decided in a pragmatic way to look at this. Experts in the region looked at the issues using enterprise surveys in Japan, the People's Republic of China, the Republic of Korea, Singapore, Thailand and the Philippines.
This book looks at four important questions concerning the spread of FTAs and the Asian noodle bowl, among them: Are FTA preferences being used by firms? What are their costs and benefits? Are multiple rules of origin a burden to business? Is there enough support for businesses to use FTAs?
What are the main findings of the book?
On the whole, concerns about the Asian FTA noodle bowl effect may be overstated and SMEs have not been unduly affected, at least at this time. But as the number of FTAs grows and business increasingly uses FTA preferences, we may expect more concerns about the Asian noodle bowl to arise in the future.
The study showed that the use of FTAs is higher than expected. About 28% of firms in the sample used FTA preferences for their goods and nearly 53% plan to use it. Another finding is that firms reported more benefits than costs from the use of FTAs—preferential market access, which results in higher export sales; preferential tariffs that make it easier to import intermediate sales; and improved business opportunities resulting from improved production networks.

What impedes businesses from using FTAs?
Lack of information on the FTAs, and not the noodle bowl per se, is the biggest impediment to the use of FTAs among firms, as indicated by 45% of responding firms in the PRC, 34% in the Republic of Korea, and 70% in the Philippines. Other impediments cited by respondents are low margins of preference and delays and administrative costs. There is significant demand for more support for East Asian SMEs to export through FTAs. Other services desired include upgrading of technical quality and standards, financial support, and enhanced consultations with business during FTA negotiations.
What measures are needed to overcome the Asian noodle bowl effect?
To overcome the Asian FTA noodle bowl in the future, the study suggests several practical measures, including encouraging rationalization and flexibility of rules of origin, upgrading origin administration, improving business participation in FTA consultations, and strengthening institutional support systems for SMEs. The study also suggests two long-term proposals to mitigate the Asian FTA noodle bowl: crafting a region-wide FTA and multilateralizing Asian regionalism.

How feasible is a region-wide FTA?
A region-wide FTA has clear economic benefits such as increased market access to goods, services, skills and technology; increased market size, which would permit specialization and realization of economies of scale; facilitation of the foreign direct investment activities and technology transfer of multinational corporations; and simplification of tariff schedules, rules and standards. It also offers insurance against rising protectionist sentiments that pose a risk to Asia's trade and economic recovery.
Clearly, there is a case for it. Any region-wide agreement could be a series of linked agreements with variable coverage of members and issues. For now, there are two political processes—ASEAN +6 and the Trans Pacific Agreement—that could be the future basis of a region-wide FTA.
What are the challenges to the creation of a region-wide FTA?
The biggest challenge is still the political will of countries to move faster on this. It is important to integrate the process, as well as to deepen the integration with services and reduce barriers.Another challenge is the administrative capacity to implement a region-wide FTA, and the need for resources to finance the implementation of any agreement. All these challenges, of course, can be overcome by an appropriate strategy.

What is ADB doing in support of this?
ADB's support is in the area of capacity building and research especially on business impacts of FTAs, and how the content of the agreements are evolving. We have developed an extensive database on FTAs. We also advocate for a region-wide FTA through high-level dialogues and policy recommendations.
---