Add 'Trade for All' to the list of government sell-outs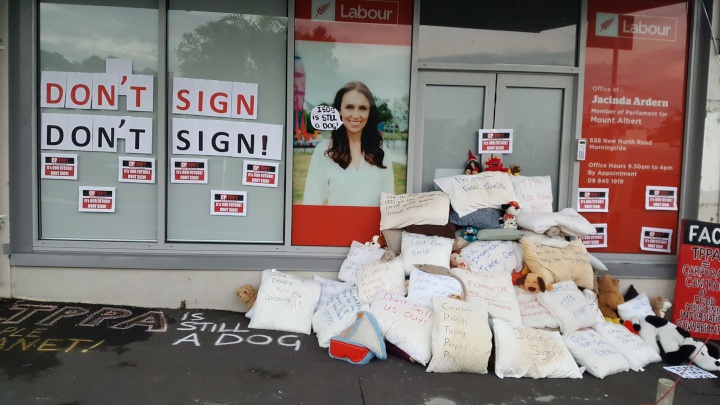 Daily Blog | 16 May 2019
Add 'Trade for All' to the list of government sell-outs
By Prof Jane Kelsey
Some have asked why my radio silence over recent months. Simple. Once it became clear that I could have zero influence on this government's trade and investment policy, I have been working where I can make a difference. There are other governments, international institutions, and influencers who are genuinely rethinking the current rule-book and resisting moves to make it even worse.
Remember Labour's promise of a new progressive trade strategy as part of a new post-neoliberal era? Trade minister David Parker's speech to the Pacific Economic Cooperation AGM last Thursday on the state of NZ's trade policy finally put paid to any pretence of that. Nothing in trade policy has, or is about to, change. Just like the welfare report, climate change, capital gains tax, Treaty policy, and too much more. Ours is a conservative, neoliberal Labour-NZ First government, with the Greens timidly in train.
This apathy is cocooned in a deep complacency. Parker claims the implementation of the Comprehensive and Progressive Agreement for Trans-Pacific Partnership – the TPPA without the US – has 'made a big contribution to restoring the "public license" for New Zealand's trade policy'. He points to the suspension of its 'most challenging provisions' and reduced application of ISDS as dealing with the 'insecurities that are driving populism and anti trade rhetoric'. Few people made submissions and only around 100 people turned up to protests. The ministry has continued an intensive programme of outreach; although attendance is sometimes low, 'we have persisted'.
Let's interrogate Parker's claims. First, the old TPPA still exists, its potentially crippling IP items are just suspended, and investors from Japan, Canada, Singapore, Chile, Mexico can still sue the government under the revised agreement.
Second, people knew from the first time around that the select committee submission process was a farce, so why bother with another submission except as a matter of duty?
Third, people stop turning up to 'outreach' sessions where intransigent officials make self-justificatory presentations, won't disclose information, and don't think there's a need to change anything.
Fourth, people protest when they believe they can make a difference. Some were exhausted after a 6-year campaign that fell on government's deaf ears. Some were dispirited by the how readily the new government reneged on its pre-election policies and embraced the cynical rebranding of the TPPA as 'progressive and inclusive'.
Others, mainly Labour supporters, wanted to give the new government promised 'Trade for All' process a chance.
But this was never a government priority. It took almost a year after the election for Parker even to announce the details: 'have a say' on a website run by MFAT, and an advisory board to make recommendations on a 'progressive, sustainable and inclusive trade policy'. Even the slogan wasn't original. The EU launched its 'trade for all' agenda back in 2014.
I was profoundly sceptical, but was asked to withhold judgement. Well, judgment time has come.
Pattrick Smellie asked at the time whether there would be room for critics on the advisory board such as myself. David Pine, appointed to chair the board, said: "Yes. The Prime Minister made the point that a significant group of New Zealanders have lost confidence. We've got to hear them. We've got to really understand what their concerns are and there's no point in the process if it doesn't engage with people who are critical."
My offer to join the board was declined. Several Maori who were approached predicted it would not be a good use of their time. The board membership wasn't finalised until December last year. I won't pass comment on the 23 members, except to note they are very busy people, most of whom have very little knowledge of trade and investment agreements.
The process, which has about 6 months left to run, has been underwhelming. The website www.tradeforalladvisoryboard.org.nz is sparse and random. The 'About' page says their task is to 'take a deep dive into New Zealand's trade policy', but the board has held only three half-day meetings, starting last December. There is no independent research budget. It is serviced by MFAT; indeed the 'have your say' link takes you to a propaganda video from Parker which was devised for MFAT's 'outreach' process.
Under 'Resources' there are three sub-tabs: 'meetings', which contains the chair's summary of the three meetings; 'other' has one press release and the terms of reference; and 'uncategorised' is where you can find the draft table of content for the board's report!
The report's framework was only settled last month; its recommendations are due by the end of the year. The 5 chapters itemise a scattergun of issues. As a full-time researcher on these matters, I know that each chapter would require many months of full-time research, consultation, and redrafting to be done properly.
At the same time, there are serious gaps. Most of the public policy issues that concerned us in the campaign against the TPPA are mentioned in passing towards the end. Intellectual property isn't mentioned at all. 'E-commerce' rules that lock in Big Tech's control of the digital domain – which the government has dived headlong into without understanding its implications – don't appear until the final chapter. Protections for foreign investors and ISDS are largely ignored.
Any report that covers the table of contents, even at a highly superficial level, will depend heavily on the scribes. Apparently, three people are going to write this report. They are not members of the board, but will consult with them. They might reach out to others – but remember they have no research budget. Yet I am told we can't know who they are, because they are just the scribes! That alone has reinforced my suspicion that at least some of them are controversial choices in whom we would have little confidence.
But, in the end it doesn't really matter. Parker's speech confirmed that this is all about the optics: 'to shape and add to the process of rebuilding public support for New Zealand's trade policy'. It is not about changing the substance of trade and investment policy.
Meanwhile, Parker proudly recounts the long list of negotiations and upgrades of existing agreements that are underway, and hails New Zealand's leadership in trying to rescue the WTO and expand its rules into new arenas – such as e-commerce.
Like many, I feel dispirited and disaffected as Labour, NZ First and the Greens have entrenched New Zealand's neoliberal obligations even more deeply in the name of 'trade', however predictable that was. But, true to the campaign's rubric 'It's Our Future', we will find new strategic opportunities to make a difference. New Zealand is host the APEC in Auckland in 2021, and that's plenty of time to prepare.
---