Africa offers a test to von der Leyen's 'geopolitical Commission'
Euractiv | 6 November 2019

Africa offers a test to von der Leyen's 'geopolitical Commission'
The field competing for influence in Africa is becoming increasingly crowded. In late October, President Vladimir Putin proclaimed that the first Russia-Africa summit in Sochi had 'opened up a new page in the history of Russia's relations with African countries'.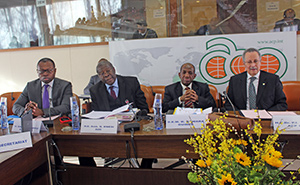 The UK, meanwhile, will host its own African trade and investment forum in January as it seeks to establish new economic and political ties with the continent post-Brexit. India and Japan are also seeking to expand their connections with the continent.
The challenge for Ursula von der Leyen, who has billed her new European Commission as a 'geopolitical Commission', is that the EU will have to improve its offer to African leaders, and quickly. Even though her team is yet to formally take office, the annual EU-Africa business summit hosted in Morocco at the end of November, will be one of the first opportunities for the EU to make an impression with their African counterparts in the new legislative term.
The early signs are that the new Commission will seek to develop a more strategic relationship with the African continent and individual countries, with the rhetoric focusing on 'partnerships with' Africa rather than programmes 'for' it.
The title of 'International Partnerships Commissioner' suggests that the EU plans to move away from traditional donor/recipient relations, and the nomination of Jutta Urpilainen, a former finance minister who served as her country's special envoy to Ethiopia between 2017 and 2019, has been widely welcomed.
'Africa must become an even greater priority for us,' Trade Commissioner-designate Phil Hogan told MEPs at his hearing.
In her hearing with the European Parliament's Development Committee, Commissioner-designate Urpilainen, promised to "complete a modern strategic partnership" with Africa, with economic relations focused upon "the private sector being involved in creating jobs and providing skills."
"We must turn our backs on the old narrative of Africa as a continent of instability and welcome Africa as a young continent of hope and prosperity," added Urpilainen.
Jean-Claude Juncker's Commission took four years to devote much time to EU-African trade, surprising many when he offered the prospect of a 'partnership of equals' with the African 'sister continent' based around a continent-to-continent trade deal in his final 'State of the Union' speech in September 2018.
The African Union in the process of drawing up regulatory standards for the African Continent Free Trade Agreement, a project for which the EU executive has provided €50m to fund technical support.
There is a sense of frustration among many African governments at the EU's defensive attitude to increasing Chinese influence and investment in sub-Saharan Africa.
"The Europeans need to wake up from their sleep," a senior African diplomat told EURACTIV.
"They complain that the Chinese have been taking over, but we are open to them. They have left their space. The Europeans have to take advantage of these opportunities," he added.
"The Turkish and Indian companies are increasing their investment. The blame should be more on Europe, not on African countries for accepting Chinese investment."
Chloe Teevan, a Policy Analyst at the European Centre for Development Policy Management says that the new job titles and mission letters for the incoming commissioners suggest there is an awareness that EU-Africa relations needs to become more strategic.
One of the problems facing that the Juncker Commission was that member states were unwilling to give up the big political decision making on foreign policy, and Africa policy has suffered as a result.
"There was very little willingness to give up any political control," says Teevan, pointing to policy on war-torn Libya, which has been an EU priority for some time but where member states have carved out their own interests, with the likes of Italy agreeing migration-control with the Libyan coastguard, and member states divided between supporting Khalifa Haftar's rebel Libyan National Army against the Tripoli-based Government of National Accord.
The result, says Teevan, was "very incoherent", with the EU made to look "powerless and weak".
Similarly, Europe's involvement in the G5 Sahel anti-terrorism project has been led by France, Germany and the UK.
Post-Cotonou dilemma
While the mood music from von der Leyen's mission letters and the Commissioner hearings there is little sign that anything has changed on migration policy.
Teevan points out that the mission letter to Urpilainen still uses the phrase 'for Africa' and adds that when it comes to migration – which will be handled by former Commission spokesman Margaritis Schinas under the title 'Protecting our European way of life' – "this tone of using aid as leverage for EU migration remains".
Elsewhere, the internal divisions within the Commission, primarily between DG DEVCO and the European External Action Service, about whether to keep pursuing traditional/donor-aid relations, and post-Cotonou via the ACP.
The twenty year old Cotonou Agreement between the EU and the African, Caribbean and Pacific expires in February and there is little chance of a new deal being agreed and ratified in time. Talks have moved slowly, in part because of unhappiness among many African countries that it is the ACP, which many see as an outdated institution, rather than the African Union.
Carlos Lopes, the African Union Commission's high representative on Cotonou, has warned that keeping the ACP framework will make it harder for the EU to agree on a 'continent-to-continent instrument'.
"The ACP is not an important political player. If EU aid disappeared there's a big question about whether the ACP would still exist," says Teevan.
But the recent strengthening in relations between the EU and Morocco do signify a move to a 'partnership of equals', she says.
"It is definitely becoming the most advanced relationship," says Teevan, noting that both Moroccan and EU priorities are covered in the joint statement released by Federica Mogherini and Rabat's foreign minister Nasser Bourita in June, which paves the way for talks on a new free trade and political deal.
"There is room when it comes to trade and investment and areas where the EU has a lot to offer. But it needs to be more united and more strategic on what it wants to do with Africa," says Chloe Teevan.
"The future of Africa is the future of Europe. There are 1.2 billion [people] living in Africa and more than half of them are under 25 – it's a continent of opportunity," Urpilainen told MEPs last month.
The next twelve months will test whether the EU is ready to grasp that opportunity.
---