Anti-Bush rally closes Peoples Summit
Anti-Bush Rally Closes Peoples Summit
Mar del Plata, Argentina, Nov 3 2005 (Prensa Latina)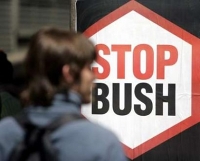 The 3rd Peoples' Summit is closing Thursday its three marathonic days of searching for an alternative model to neoliberalism with a hemispheric demonstration repudiating US President George W. Bush.
Antithesis of the 4th Americas Summit, which will gather Friday 32 American heads of states, the masses' forum was in session under the slogan Another America is Possible and against the Washington-proposed free trade agreements.
Members of more than 600 grassroots, union and political organizations from Argentina and over twenty countries are concluding today deliberations on the search for alternatives to face the neoliberal formulas that reigned in the 90"s.
The summit, arranged by the Hemispheric Social Alliance, opened last Tuesday by Argentine Nobel Peace Prize winner Adolfo Perez Esquivel, who called for trashing the failed Free Trade Area of the Americas (FTAA), dreamed up by Washington.
The outstanding human rights activist stated that idea, refused by various Latin American nations, was an embodiment of the region's death, destruction and re-colonization.
He also slammed the hemisphere's militarization through bases organized by the White House through the Puebla Panama and Colombia plans.
"Our peoples do not need armies and much less if they come from North America. We need resources for health and education, for life and not for death," he stressed.
Of the more than 150 panels, workshops and conferences, the Cuban delegation's presence was notable as the only country deliberately excluded from the Mar del Plata event due to US pressure.
---