Anti-TPPA rally tells deaf gov't off
All the versions of this article: [English] [Español] [français]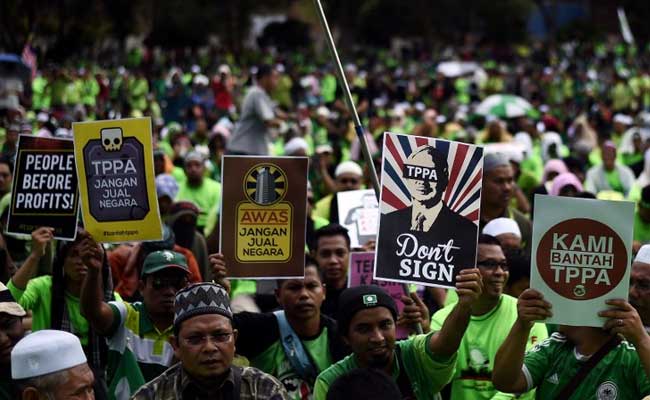 L'Express | 23 January 2016
Anti-TPPA rally tells deaf gov't off
By Soo Wern Jun
Protestors at the anti-TPPA (Trans-Pacific Partnership Agreement) demonstration in the capital today under pouring rain say even if the government refuses to listen, what mattered was the people are sending the message that they do not want the secretive agreement signed by the government.
About 5,000 protestors mainly from opposition parties, NGOs and loose coalitions against TPPA took to the streets of Kuala Lumpur this afternoon and finally converged at Padang Merbok.
PAS, led by its Deputy President Tuan Ibrahim Tuan Man, formed the majority of the crowd, with green being the dominant colour.
Other leaders spotted were Bersih chairperson Maria Chin, Amanah chief Mohamed Sabu, PKR's Tian Chua and Perkasa's Datuk Ibrahim Ali. There were also opposition MPs among the crowd.
Mohammad Faqruddin, a PAS member from Jerai, Kedah, says what was important was that the people who came out to the streets understand why they were there and not blindly protesting.
"I arrived last night from Kedah and I wanted to come to show my support, to be part of a cause. They (government) think that we don't know anything but the world is well connected via the Internet.
"The TPPA is a big word, but it isn't so big that we don't understand what is happening. We know that this rally may not be able to change the government's minds on signing the TPPA, but at least we have tried and voiced our discontent," says Mohammad.
Despite much opposition against the TPPA from the public, the government had pushed for it and said it will not back down.
Linda Teoh, 30, says the entire TPPA 'affair' is very complex and the public deserves to know its discussion contents.
"I know the impact of it, but what I don't know is how what is being negotiated will bring rise to that impact.
"People are just saying they will be affected in a certain way, how will they know that they will be affecting them in such a way because they don't even know what us negotiated in the first place?" Teoh questions.
Earlier today at Padang Merbok, PAS deputy president Tuan Ibrahim Tuan Man calls on the National Fatwa Council and muftis to voice out against the TPPA.
"If any MP who doesn't vote against the TPPA, he or she will be taken down in the next elections," he says.
Also present was PAS youth chief Nik Abduh Nik Aziz who asked if Malaysia really wants its wellbeing to be tied to TPPA.
"Do you think that the US will give us protection? We are being restrained by the US!" he says, adding that the stronger countries only want to use Malaysia as their 'door mat' or 'stepping stone' to pressure other countries to 'bow down to the greater forces'.
Protestors were spread out between Dataran Merdeka and Padang Merbok, as Dataran Merdeka was heavily guarded by the police with barricades reinforced with tall steel poles. The protestors had initially planned to gather in Dataran Merdeka.
The police blocked every road leading to Dataran Merdeka causing a massive traffic jam in the city.
There were a few arrests soon after the crowd dispersed but many say police did not have to do so.
"I don't think this is necessary, after all we don't want any trouble, we just want to tell the government that we are not happy that they are trying to sell us to the 'more powerful countries'," says a protester Syafiq.
---