Asean-Hong Kong FTA set to be signed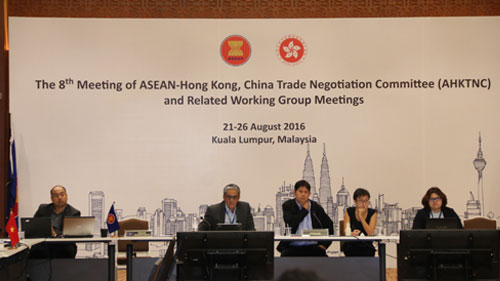 The Nation | 1 August 2017
Asean-Hong Kong FTA set to be signed
The free trade agreement between Asean and Hong Kong will be signed at the 31st Asean Summit in November in the Philippines, according to Thailand's Department of Trade Negotiations.
Meetings between the Asean-Hong Kong FTA Trade Negotiating Committee began in 2014 and there were 10 rounds of negotiations.
Thailand hosted the 10th negotiation round on July 30-31, with Asean and Hong Kong successfully wrapping up the talks on all issues.
The successful conclusion will be declared in the second meeting of the Asean Economic Ministers-Hong Kong, China Consultations in September.
Trade Department's deputy director-general Ronnarong Phoolpipat said it will be the sixth FTA accord between Asean and its trading partners. The fifth one was signed with Australia and New Zealand in 2009.
The Asean-Hong Kong FTA is expected to benefit both sides. Asean members will be able to use Hong Kong as a gateway to tap the China's market. Under the Hong Kong-China Closer Economic Partnership Arrangement, 1,819 products exported from Hong Kong enjoy a zero per cent import tariff in China.
Hong Kong was Thailand's ninth biggest trading partner last year. Bilateral trade between them was worth US$13 billion (Bt433 billion) last year.
Thailand's main exports to Hong Kong include personal computers, jewellery, fresh fruits and rice, while the main exports from Hong Kong to Thailand include jewellery and gold bars.
Last year Hong Kong investment in Thailand via Thailand's Board of Investment was ranked the the seventh biggest for the Kingdom and totalled 32 projects worth Bt8.6 billion, but was down 68.9 per cent year on year.
The number of Hong Kong tourist arrivals in Thailand last year was 750,000, while 590,000 Thais visited Hong Kong last year.
---