ASEAN-India services and investment FTA inches closer to implementation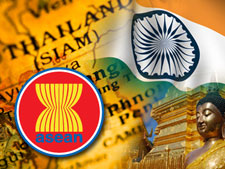 India Briefing | August 7, 2014
ASEAN-India services and investment FTA inches closer to implementation
The ASEAN-India Free Trade Agreement (FTA) in Services and Investment is one step closer to implementation following approval by Thailand's Ministry of Commerce to accept the terms outlined in the region-wide agreement.
Thai investors had previously rejected several articles of the agreement, putting pressure on their government to negotiate further with India before agreeing to implement the FTA.
In response to these concerns, Thailand's National Council for Peace and Order announced last month that agreeable terms had been reached and that it would endorse the agreement during the ASEAN Economic Ministers meeting, scheduled to take place later this month in Myanmar.
Under the new terms, Indian investors operating in Thailand will be limited to a 49 percent ownership stake in Thai companies.
Led by India's former ruling party, the United Progressive Alliance (UPA), formal negotiations for the ASEAN-India Free Trade Agreement in Services and Investment were concluded in 2012 and endorsed by the ASEAN Economic Ministers in 2013—but the agreement has faced considerable opposition within the ASEAN bloc, with Thailand, Indonesia and the Philippines yet to individually ratify the deal.
Among these countries' sticking points was the UPA-endorsed stipulation that Indian companies be allowed to hold a 51 percent majority stake in multi-brand retail FDI projects involving the ASEAN member nations. This number has since been reduced to 49 percent in hopes of reengaging the holdout nations.
The ASEAN-India Services and Investment agreement is built on the foundation of the ASEAN-India FTA in Goods, which came into effect in 2010 and liberalized tariffs on over 90 percent of items. The services and investment agreement is envisioned as a means to boost cross-board investment and facilitate access to professionals and highly skilled workers between India and the ASEAN bloc.
"This [agreement] represents a valuable milestone in our relationship. I am confident it will boost our economic ties in much the same way the FTA in goods has done," commented former Prime Minister Manmohan Singh upon completion of negotiations in 2012 at the 10th ASEAN-India Summit in New Delhi.
Following implementation of the ASEAN-India FTA in Goods, total trade between the nations grew by more than 35 percent to US$79 billion in 2012, surpassing the initial trade target of US$70 billion. In response, India and the ASEAN nations have adjusted their bilateral trade targets to US$100 billion by 2015, and US$200 billion by 2022.
---