Asean may soon conclude review of FTA with India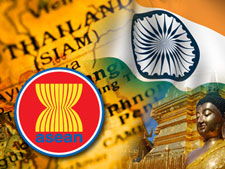 The Economic Times - 06 November 2019
Asean may soon conclude review of FTA with India
By Dipanjan Roy Chaudhury
The Association of South East Asian Nations (Asean) may soon conclude FTA (free-trade agreement) review with India. The aim is to balance China in the Indo-Pacific.
The grouping will work with India for early conclusion of the review of Asean-India FTA to keep momentum in the partnership, a senior Asean diplomat told ET.
PM Narendra Modi, while addressing 10 Asean leaders, on Sunday welcomed the decision to have a relook at the free-trade agreement between India and the 10-member grouping. Last month, India and Asean initiated a review of the free-trade agreement in goods to make it "user-friendly, simple and trade facilitative".
After India's decision to stay out of RCEP, some Asean nations, including Thailand, are keen for early conclusion of the FTA review.
In 2003, India and Asean signed a Framework Agreement on Comprehensive Economic Cooperation to establish an Asean-India Regional Trade and Investment Area, which would provide a basis for subsequent FTAs covering goods, services and investment. The Asean-India Trade in Goods Agreement (AITIGA) was signed in 2009 and it is this that both sides have agreed to review.
Modi said he welcomed "the decision to re-examine the India-Asean FTA. "This will make our economic links stronger and will make our trade more balanced," he said.
Bilateral trade between the two sides increased to $80.8 billion in 2018 from $73.6 billion in 2017.
India has its concerns, given that its FTA with Asean is stacking up trade deficits with several Asean partners.
---