ASEAN plans free trade pact with Hong Kong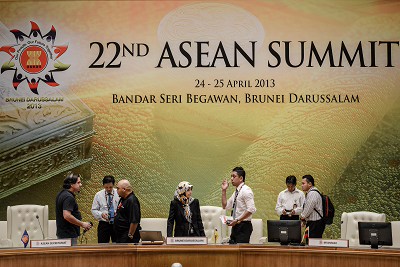 AFP | Tuesday, 23 April 2013
ASEAN plans free trade pact with Hong Kong
BANDAR SERI BEGAWAN: The Association of Southeast Asian Nations (ASEAN) will pursue a free trade agreement with Hong Kong, a document obtained by AFP said Tuesday.
ASEAN leaders meeting in the Brunei capital of Bandar Seri Begawan on Wednesday and Thursday will endorse a decision by their economic ministers to expand trade ties with the southern Chinese city, according to the document.
"We welcomed the decision of the ASEAN economic ministers to pursue closer economic engagement with Hong Kong through an ASEAN-Hong Kong Free Trade Agreement," a draft of the chairman's end-of-meeting statement said.
The statement was prepared by senior officials and will be issued by the leaders on Thursday, although it could be changed before then.
ASEAN was Hong Kong's second biggest trading partner in 2011 after mainland China, figures from the territory's trade and industry department website showed.
Five of the ASEAN countries — Singapore, Thailand, Malaysia, Vietnam and the Philippines — were among Hong Kong's top 20 trading partners.
The other ASEAN members are Brunei, Cambodia, Indonesia, Laos and Myanmar.
The average annual growth rate in bilateral trade between Hong Kong and ASEAN was 7.0 percent from 2007 to 2011.
Bilateral trade rose 10 percent to HK$726.6 billion ($94.0 billion) in 2011 from HK$663.2 billion the previous year, the department said.
As a special administrative region of mainland China, Hong Kong has a high degree of autonomy in economic, trade, financial and monetary matters.
ASEAN already has direct free trade agreements with many countries in the region, including China.
---