Banana growers in Ecuador fear for their future
BBC | Monday, 14 June 2010
Banana growers in Ecuador fear for their future
By Irene Caselli
BBC News, Ecuador
As he drives through the banana-growing area on the border between the Guayas and Canar provinces in south-west Ecuador, Luis Pareja is concerned. Mr Pareja is the owner of a 150 hectare banana plantation some 65km (40 miles) east of Guayaquil and he is running out of time to sell this week's harvest.
There are 3,000 banana boxes at stake - a fifth of the farm's weekly production. If he does not sell them immediately, the bananas will become too old to be shipped abroad and will have to be sold at a much lower price internally, which in turn could lead to a loss.
Mr Pareja concentrates on the driving, while in the back of his car a potential Russian buyer shouts instructions down the phone to his company back home. The businessman has travelled here to check out the fruit's quality before signing off on a deal.
Uncertainty is part of Mr Pareja's business . As with every investment in the agriculture sector, it comes with a certain risk.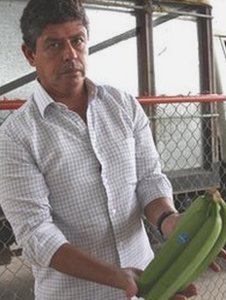 'Banana wars'
Given the Ecuadorean government's decision not to sign a trade deal with the European Union that would have lead to a lowering of tariffs imposed on bananas upon entering the EU market, Mr Pareja, like the other producers here, is worried that the risk might be rising.
Ecuador is the world's top banana exporter and the European Union is the largest banana market. Trade relations between the two parties have been far from straightforward. In 1996, Ecuador led other Latin American countries in complaining to the World Trade Organization about EU tariffs on bananas - which resulted in the so-called banana wars, the longest trade dispute in history.
The banana wars came to an end last December, when the EU agreed to cut import tariffs imposed on Latin American bananas from 176 euros (£146) to 114 euros per tonne over a transition period of eight years. This was a huge relief for producers around the region, but its effects did not last long in Ecuador.
'This is not a race'
During last month's EU-Latin America summit in Madrid, the EU signed free trade agreements (FTAs) with Central American nations and separate trade agreements with Colombia and Peru. As part of the FTAs, the EU promised a further lowering of tariffs on bananas from 114 euros to 75 euros per tonne over a period of 10 years.
Ecuador made it clear that it would "never" sign a free trade agreement that would contribute to a worsening asymmetric relationship between the EU's huge market and Ecuador's small economy.
"This is not a race, the important thing is who does it best," said Ecuador's president Rafael Correa in a recent interview with Radio Quito. "A foolish type of trade, a foolish openness could bankrupt a country."
Ecuador is trying to negotiate a different deal with the EU, which they call an "accord for development" as it would include political as well as commercial co-operation. Everyone is watching closely for the results of a visit by an EU delegation to Quito on 14-16 June.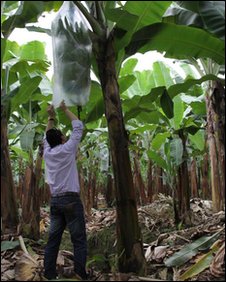 Competitive advantage
For Eduardo Ledesma, head of the Association of Banana Exporters of Ecuador, the risk for the country is huge. If Colombia and Costa Rica, Ecuador's main competitors in banana exports, have better tariffs, they could easily take over Ecuador's share of the EU market. Moreover, within this climate of uncertainty, big multinational companies such as Chiquita and Dole might abandon Ecuador as their supplier.
"Do you think that a big multinational company would spend up to $1 more per box to get their bananas from Ecuador? Commercially, it would make no sense. The company would go elsewhere and start up new production in countries like Colombia and Costa Rica," Ledesma says. "This would lead to job losses and as a result people would abandon the countryside. We don't want this to happen."
According to Mr Ledesma, one in seven Ecuadoreans relies on the banana industry as a main source of income. Better trade tariffs for the region's other countries would also make Ecuador less competitive when it comes to other main exports such as flowers, shrimp, tuna and chocolate.
Looking for new markets
Galo Borja, the undersecretary for foreign trade and integration, says there is no rushas the new tariffs will not have an impact for several years.
"We're trying to reach a very fair agreement which would take into account the imbalance between the European Union and Latin America," Borja says. "A free market is not advisable. We want this agreement to take into account the development of the country, the environment, poverty. We want it to take into account the human side of things."
Can Russia or other emerging economies become an alternative market to the EU, and come to the rescue of Ecuador, as it happened in Mr Pareja's case? Producers and exporters seem to agree that it is not that simple, as it takes time to establish relations with new markets.
Russia is a good client but it is not an expanding market because bananas remain a luxury product there. The United States is mainly served by multinational companies based in Central America. As for China, banking regulations are complex and payments can take some time, while transportation by boat to the Middle East is limited and costly.
'All our efforts'
"The logical thing to do is to take care of our main market first, and expand that first, and then try and invest in other places too," says Mr Ledesma. "We can't leave Europe just because there is a possible new market."
For the Ecuadorean government officials talking about alternative markets is not a priority, because they are sure they will be able to come to an agreement with the EU.
"We're going to put all our efforts to wake up the EU's interest in our proposal," says Mr Borja. The visit itself can be seen as a sign that they are interested in reaching an agreement with us."
If this week's negotiations are successful, it would be a huge weight off the chest for the large number of people in the country who make a living out of the banana industry.
---