Beyond tariffs: EU-EPA negotiations for Namibia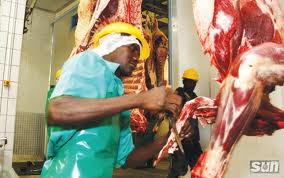 The Namibian | 22.02.2013
Beyond tariffs: EU-EPA negotiations for Namibia
By: BRIDGET DUNDEE
AS THE European Union (EU) economic partnership agreement (EPA) negotiations gain momentum in southern Africa, countries which want to continue to benefit from EU market access will have to sign and fulfill their obligations in line with the EPAs. Last year the EU extended the deadline for the termination of interim EPAs to 2016.
By implication, countries who have not concluded an EPA or have not taken the necessary steps to ratify and implement by 2016, would no longer benefit from the preferential access to European markets. At present, Namibia benefits from duty-free quota-free access to the EU. If Namibia does not finalise a new EPA by 2016, it would fall under one of the schemes of the new Generalised System of Preference (GSP) that affords it fewer trade concessions.
In terms of this it would face high duties, rates and taxes on beef, fish and other key agricultural products it exports to the EU annually. If downgraded to GSP, Namibian fish exports would face inferior market access compared to its competitors from Latin America, some of whom do not have a Free Trade Agreement (FTA) with the EU but benefit from unilateral preferences under the GSP+. For its grapes, although Namibia already faces less favourable EU market access than South Africa and Chile, and trading under the GSP would pass over the opportunity for improved access to the level of its competitors. However, the meat industry would be the principal victim. Preferential access to the EU market has enabled the Namibian meat industry to upgrade production facilities and to meet international standards. In this way, the quota given under the Beef and Veal Protocol has contributed significantly to the marketability of Namibian meat products. If Namibia lost the competitive advantage of supplying the demanding EU market it might no longer be able to supply valuable niches in the South African market.
While one might understand the European logic to put an end to an instrument (the interim EPA) that has remained "temporary" for too long and is not compatible with the rules of the World Trade Organisation (WTO), there are still some 'contentious issues', such as understanding of substantially all trade, the Most Favoured Nation (MFN) clause, development co-operation, bilateral safeguards and rules of origin, that remain unresolved.
Going forward, some key considerations for Namibia and the Southern African region are worth highlighting here. First, the EU policy development, notably within the reform of Europe's Common Agricultural Policy (CAP), will have important consequences for the EPA negotiations. SACU countries are heavily dependent on a limited number of agricultural commodities for their export earnings and socio-economic stability. Any liberalisation request from the EU, as well as any proposal or process that could further affect the SADC-EPA trade preferences in the agricultural sector (e.g. reform of the ACP Sugar Protocol) should be received with extreme caution.
Secondly, services, particularly travel and tourism, but also education and health-related and transport and financial services (especially through South African investments), are gaining importance in the region. Liberalisation of trade in services under an EPA, coupled with the negotiations at the WTO level could increase international competition, posing serious economic, social and environmental challenges to the region.
Thirdly, interim signatory countries should have a explicit development agenda for other trade-related issues such as competition, investment, protection of intellectual property rights, standardisation and certification, sanitary and phyto-sanitary measures, trade facilitation, trade and environment, trade and labour standards, consumer policy regulation, consumer health protection, food security and public procurement. Although the EU proposed the inclusion of these trade-related areas in the negotiations, they would be covered through increased co-operation that is not necessarily legally binding. It is important for developing countries to realise that the assertion that EPAs will be developmental in nature are not a given. A clear requirement for successful negotiation is the need for political will in pushing the development agenda of the region.
The negotiations are at a critical stage and Namibia needs to find an appropriate balance in making and getting concessions. Key to successful negotiations for Namibia are in the areas of rules of origin, regional industrialisation and integration. Namibia needs to refine its policy work in export taxes, customs arrangements, bilateral safeguards and agricultural safeguards.
The biggest challenge for Namibia will be to find ways in which to incorporate a development aspect into the EPA. Development issues that could encompass a broadening of its industrial base and the promotion of growth in small and medium-sized enterprises are critical. Without a doubt the EPA negotiations provide an opportunity for southern African states to think outside the box and to come up with innovative ways in which its growing levels of poverty, global marginalisation and slow progress in development can be addressed.
* Bridget Dundee currently works at the Namibian Competition Commission. Her research interests are in regional integration and economic policy. The article is written in her personal capacity.
---