Bilateral FTA with US may be an own goal for India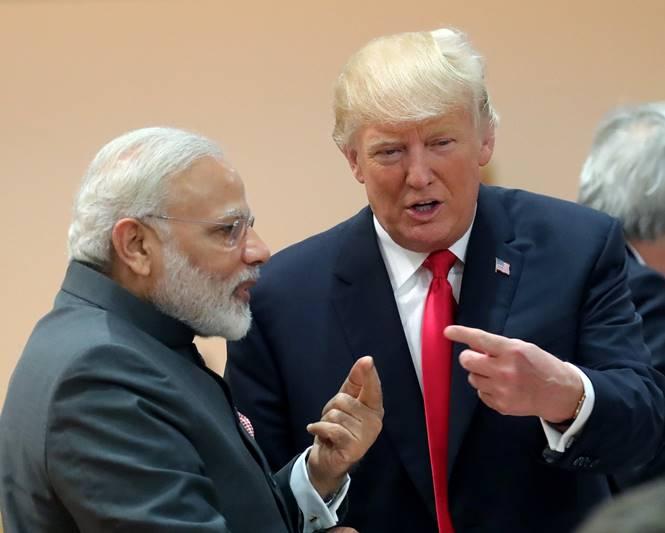 Live Mint | 3 July 2018
Bilateral FTA with US may be an own goal for India
by D.Ravi Kanth
In quixotic times like now, it may not surprise anybody if a tiger shakes hands with an eagle. So far, the two had maintained considerable distance, distrusting each other. But times have changed with the advent of supremacist governments. Little wonder that the political, trade and economic relationship between the Hindu tiger fed on a vegetarian diet and the American eagle that had long transformed into a "vulture" had remained "underachieving". At a time when "China's assertiveness suggests the US needs India even more than Mr Bush imagined yet it is in danger of getting less from India than he hoped," argues The Economist in its Lexington column on 30 June.
It is pretty unusual for the column—which is sometimes seen as the voice of America's invisible Deep State by strategic analysts— to focus on the fragile relationship between the US and India. Relations had remained strained between the US and India because of a spate of tit-for-tat actions on the trade front. "Replete with sparky, second-generation Americans (dominated largely by Non-Resident Knicker-Dharis NRKDs to quote historian Sanjay Subrahmanyam from his book, Is Indian Civilization a Myth?), who have deeper ties to India than their children will have," it suggests a turnaround is possible.
Last week, trade and political representatives of the US administration, including President Donald Trump's United Nations envoy Nikki Haley, visited India to set the ground for a new relationship. Reports in the Indian media on 28 June suggested unusual developments on the trade front. For example, one report suggested that New Delhi, which announced retaliatory tariffs against Trump's punitive steel duties, could withdraw its action. Reason: it is working on a "white paper" with Washington that is expected to be fine-tuned by both sides at a meeting next month in Washington on sensitive trade issues, which can take from six months to 3-4 years.
Clearly, these are not insignificant hints. Obviously, some unusual developments are in the offing. In all probability and against the backdrop of Trump's violent obsession with America First trade strategy based on a "fair and reciprocal" framework, it is plausible that the US and India are considering entering into negotiations for a bilateral free-trade agreement. Such negotiations often take a considerable period to produce an outcome that is acceptable to both sides.
But negotiations between the world's largest economy of about $19.42 trillion last year and an economy of $2 trillion—with the world's highest disease-burdened population, according to World Health Organization reports and per capita income an eighth of the American average (The Economist)— are incomparable in terms of interests. After all, the US is stacked with a range of hi-tech sectors in all areas, particularly in pharmaceuticals, and last but not least, the hundreds of billions of dollars of farming system. In contrast, India can only supply services providers and basic products such as steel and automotive parts.
Further, the US has had a historical track record of extracting concessions at each point/round of negotiations and then demanding much more. Consider the US-Korea free-trade agreement: starting from the Bush administration to the Obama administration and now the ultimate "extortionist" Trump administration, there has never been a moment when Washington changed the goalposts to accomplish its maximalist demands.
The US negotiating tactic has always been pocketing concessions while discarding the negotiating parameters at each juncture. During the several rounds of General Agreement on Tariffs and Trade (GATT) and the World Trade Organization (WTO) negotiations, the US resorted to unusual muscular tactics. For example, the US extracted from India the trade facilitation agreement without agreeing to the permanent solution for public stockholding programmes. Washington had agreed on "less-than-full-reciprocity" commitments in 2004 to enable India and other developing countries to reduce their industrial tariffs and promised enhanced market access for the short-term services providers. India secured zero, zilch, nada.
Today, the Trump administration is saying India must provide reciprocal treatment in all areas failing which it will impose high tariffs on Indian goods, while imposing new barriers for the H1-B visas. Trump even threatened on Monday to take action against the WTO since he claimed the US has been treated very badly by the global trade body. "We are not planning anything now, but if they don't treat us properly we will be doing something," the President said, according to Washington Trade Daily.
In fact, a potential bilateral free-trade agreement with India must be sweet music to the American pharmaceutical industry, which can capture the Indian market in one stroke. The fact that the Narendra Modi government is considering such an agreement with the Trump administration is inconceivable. If it is true, then, it amounts to: Aa bail mujhe maar (inviting trouble)!
---