BIMSTEC underlines early finalisation of free trade area accord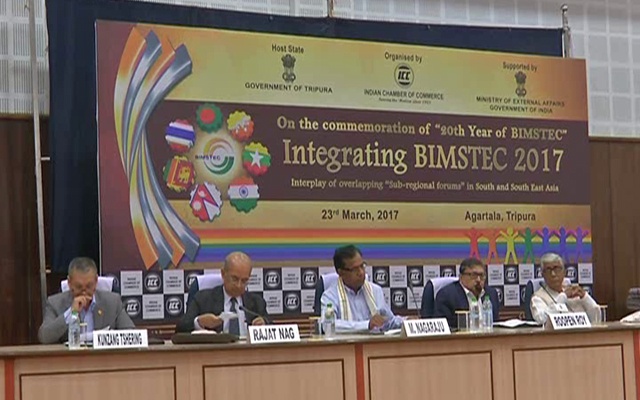 Kathmandu Post | 10 August 2017
BIMSTEC underlines early finalisation of free trade area accord
by SANJEEV GIRI
The 18th session of Bay of Bengal Initiative for Multi-Sectoral Technical and Economic Cooperation (BIMSTEC) Senior Officials' meeting held in Kathmandu on Thursday, recognising the importance of trade, energy and technology in regional cooperation, has underlined the need of early finalisation of BIMSTEC free trade area agreement.
It has also stressed on signing of Memorandum of Understanding for the establishment of grid connection and conclusion of Memorandum of Association on the establishment of technology transfer facility.
The meeting comprising representatives from all the member states felt the need of concentration on core areas like trade, investment, connectivity, energy and tourism rather than proliferation.
It urged the member states for an early operationalisation of BIMSTEC centres established in the respective countries.
"The member states have agreed to pursue the concept of deepening not widening," Foreign Secretary Shanker Das Bairagi said clarifying that the member states aim to deepen concentration in focal areas rather than widening concentration in different sector for obtaining tangible benefits.
During the meeting, Nepal has proposed to circulate a draft concept paper on Mountain Economy and host an expert level meeting to finalise the concept paper.
According to Bairagi, the idea resembles with that of Blue Economy formed within BIMSTEC member states for reaping the benefits from sea.
"Our proposal is for countries like Nepal, India and Bhutan which has significant possibilities of mountains," Bairagi said.
---