Canada-EU trade talks collapse in Wallonia as profoundly 'disappointed' Freeland walks out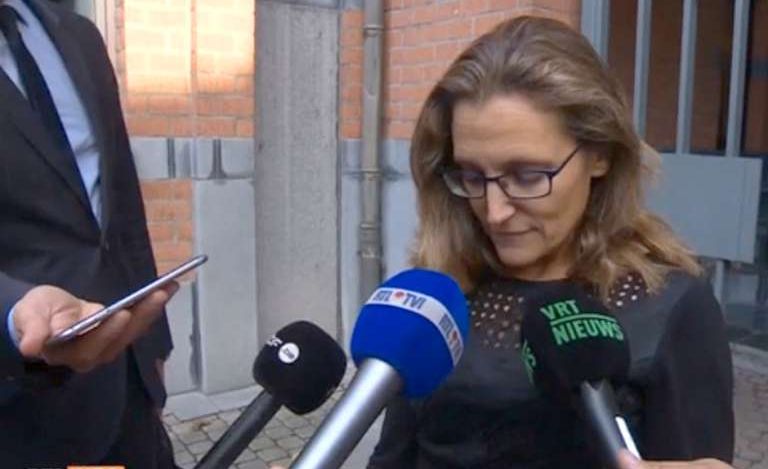 Radio Canada International | 21 Oct 2016
Canada-EU trade talks collapse in Wallonia as profoundly 'disappointed' Freeland walks out
By Levon Sevunts, Radio Canada International
Last-minute talks between Canada and the European Union to salvage a landmark free trade deal have failed, Canada's International Trade Minister confirmed in an emotional statement to the media as she walked out of the negotiations in Belgium today.
The Comprehensive Economic and Trade Agreement (CETA) was supposed to be signed at an EU-Canada summit next week. However, the deal, which would have removed 98 per cent of tariffs and trade barriers between Canada and 28 EU member states, was blocked by the Belgian region of Wallonia.
"It is now evident to me, evident to Canada, that the European Union is incapable of reaching an agreement – even with a country with European values such as Canada, even with a country as nice and as patient as Canada," Freeland told reporters speaking in French in Namur, Wallonia, following three days of meetings with Belgian and European leaders.
Fighting back tears, Freeland said she had worked very hard to secure the deal but realizes now that it won't happen.

La ministre canadienne quitte Magnette sur un ECHEC : "Je suis très triste"
"Canada is disappointed and I personally am disappointed, but I think it's impossible," Freeland said. "We are returning home. At least I will see my three children tomorrow at our home."
Earlier, Paul Magnette, the president of Wallonia, briefed his regional parliament, saying that although talks were productive, difficulties remain and he's not prepared to reverse the decision to reject CETA.
European Council President Donald Tusk said he was concerned that "a good trade agreement with a close partner like Canada" had failed.
But opponents of the controversial deal that saw hundreds of thousands of Europeans taking to the streets in protest welcomed Wallonia's hard line.
"Yes, you can say that this is a good day for democracy," said Maude Barlow, who heads the Council of Canadians, a citizens' advocacy group opposed to the deal. "Wallonia was expressing the concerns of millions with its courageous stand. Now it is back to the basics to negotiate trade based on the values of sustainability and justice instead of greed and power."
---