Centre counters anti-FTA campaign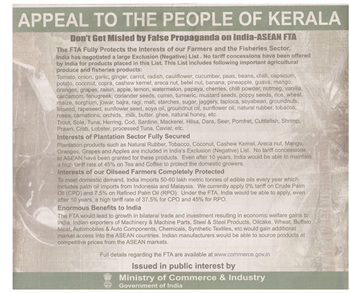 The Hindu | 1 October 2009
Centre counters anti-FTA campaign
K.P.M. Basheer
Union government appeals to the people through advertisement
KOCHI: In a rare move, the Union government has launched an 'Appeal to the People of Kerala' advertisement campaign to counter the 'false propaganda' against the Indo-ASEAN free trade agreement (FTA).
Rarely does the Centre come out with such State-specific advertisement campaigns to counter resistance to its policy, it is pointed out. The half-page ads in the newspapers, issued in 'public interest' by the Union Ministry of Commerce and Industry, is captioned 'Appeal to the People of Kerala.' The ad straightaway reveals its intention: "Don't Get Misled by False Propaganda on India-ASEAN FTA."
The campaign is ahead of the October 2 massive Kasaragod to Thiruvananthapuram 'human chain' announced by the ruling CPI(M) against the FTA, which was signed on August 13. The LDF government, especially Chief Minister V.S. Achuthanandan, has been very vocal in its opposition to the FTA as it fears the trade accord will greatly damage the interests of the State's farmers and fishworkers.
The Fisheries Department has already set up an experts' committee to study the FTA's impact on the fishing sector—the first State to do so. It is also planning to call a meeting of the Fisheries Ministers of the nine coastal States in the country.
The fishing sector, which is likely to be hurt by the free imports of fish from the 10 ASEAN countries, has announced that it will come out with a series of protest meetings and rallies soon. A number of farmers' blocs, political parties and NGOs as well as influential personalities such as V.R. Krishna Iyer have opposed the FTA as, they point out, the FTA would be a jolt to Kerala economy's primary sector and would compromise the country's economic sovereignty.
It is against this backdrop that the Centre has come up with the campaign which claims that "the FTA fully protects the interests of our farmers and the fisheries sector." It points out that while signing the FTA India had negotiated a large 'Exclusion List.'
"No tariff concessions have been offered by India for products placed in this list," the ad says. The list, it notes, includes natural rubber, coconut, cashew kernel, areca nut, betel nut, nutmeg, cardamom and vanilla. Fish such as sardine, mackerel, pomfret, cuttlefish, shrimp, prawn crab lobster and processed tuna are also on the exclusion (negative) list. No tariff concessions had been allowed on plantation products such as rubber and coconut. "Even after 10 years, India would be able to maintain a high tariff rate of 45 per cent on tea and coffee to protect the domestic growers."
Mr. Achuthanandan, in a newspaper article on Wednesday, said the Centre had been very casual about the way the FTA, which he said might even "change the course of history," was arrived at.
---