CETA ratification hangs in doubt over visa-free travel dispute
All the versions of this article: [English] [français]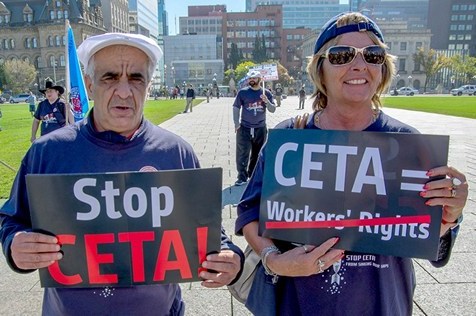 EurActiv | 11 April 2016
CETA ratification hangs in doubt over visa-free travel dispute
The ratification of CETA, the EU-Canada Comprehensive Economic and Trade agreement, hangs in doubt due to the refusal of Canada to introduce reciprocity with EU countries on visa policy, by lifting the visa requirement for Bulgarians and Romanians.
As the Canadian press reported, the future of CETA is uncertain following a looming "visa war" between Ottawa and the EU.
The European Commission is considering whether to make US and Canadian citizens apply for visas before travelling to the EU. On Tuesday (12 April), the Commission will decide whether to propose that the EU countries impose visas on USA and Canada who still require visas for nationals of some countries of the Union.
Washington and Ottawa both demand entry visas from Romanians and Bulgarians, whose states joined the EU in 2007. The United States also excludes Croatians, Cypriots and Poles from a visa waiver scheme offered to other EU citizens.
A regulation which entered into force on 20 December requires EU countries to "react in common" on visa matters, especially in cases where foreign countries "subjects [EU] citizens to differing treatment".
However, Canada said its visa policy was not based on reciprocity. This, according to the Canadian press, may incite EU countries to block the ratification of CETA.
The CETA negotiations were concluded in August 2014. The agreement is to be approved by the Council of the European Union and the European Parliament. If approved, the agreement would eliminate 98% of the tariffs between Canada and the EU.
A meeting held on 5 April between Canadian and European officials found the two sides still disagreeing.
"The outcome was disappointing," Sorin Moisă, a Romanian member of the European Parliament (S&D) was quoted as saying by CBC News. He described the behaviour of the Canadian side as unacceptable, undignified and patronizing.
Rather than bridging gaps, Moisă said Canada was "super-evasive, aggressive and arrogant," adding to the criteria required for lifting its visa in unfair ways that aren't transparent and can't be challenged in court.
He accused Canada of trying to do "social-political engineering," demanding things of Romania it does not require from other countries, applying criteria that "would not hold water."
"This has to stop," he told CBC.
Failing to back its fellow states on the visa issue would be a "huge continental embarrassment" and a failure of EU solidarity, Moisă said.
The Romanian MEP said he's tried not to link the trade deal to the visa issue, but others have. He's increasingly frustrated and feels he may be forced to resign as CETA rapporteur.
"I cannot show up in Romania again," he said, if it's not dealt with.
Just as Canada is using its sovereign rights to continue to impose visas, he said Romanian MEPs and other sympathetic parliamentarians can choose to use their sovereign power to not ratify CETA.
Canada's behaviour is toxic, he said. And S&D is "known for its spirit of solidarity."
---