Chile - Civil society organizations: "Without impact studies, Congress cannot vote free trade agreements"
All the versions of this article: [English] [Español]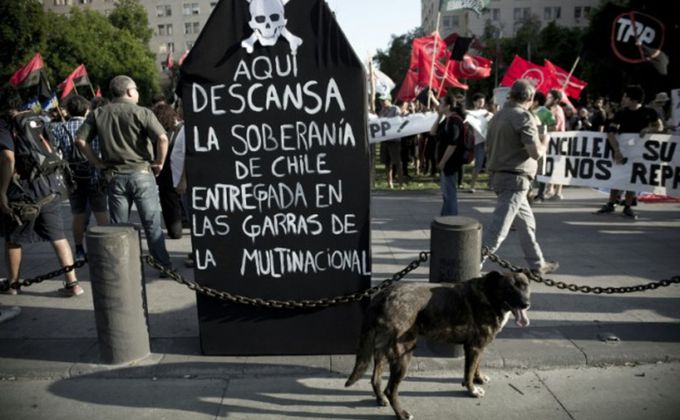 Chile - Civil society organizations: "Without impact studies, Congress cannot vote free trade agreements"
by Flavio Araneda / resumen.cl | 09 August 18
This week, Congress has discussed free trade agreements with Argentina, China and Indonesia in the Chamber of Deputies. While in the Senate, the controversial FTA with Uruguay was approved on Tuesday 7 August with 29 votes in favour and two against.
One of the issues that has been most questioned by the civil society is the lack of studies that show who the real beneficiaries of the trade agreements signed by Chile are. Lucía Sepúlveda, member of the Platform for Chile Sin TLC [Chile without FTAs], explained that these treaties only benefit private capital enslaving social rights. "We need comprehensive assessments of what has already happened, of the more than twenty treaties that Chile has in force. They say they intend to pass a simple harmless treaty, but it ends up dealing only with regulatory issues in key economic areas that favour investors, and without actual progress in proper trade issues and social rights".
Free trade agreements (FTA) aim to establish their own trade rules between countries, regardless of each country's own national jurisdictions. Chile Sin TLC Platform states that in fact this has increased deregulation and liberalization of economic activities that were previously in the hands of states, such as utilities, education, health, pensions and others.
In a conversation with Resumen, Julian Alcayaga, member of the NGO Chile Cobre [Copper] talked about the process aiming to declare the treaty signed with Canada as unconstitutional. "We have been meeting with some MPs of the Frente Amplio, [seeking] support to file a request for unconstitutionality of the treaty with Canada, which is more harmful than the treaty with the United States regarding the nationalisation of foreign companies, especially mining companies that are largely Canadians," he said.
Likewise he warned against the policies protecting foreign investments. "One effect of these [treaties] is that investors are protected, they capitalise their efforts at will. Thus, free trade agreements have nothing to do with free trade. They are international regulatory instruments imposed to Chile, restricting its sovereignty in commercial, political and legislative aspects. This strengthens a global system of large corporations in small countries," Alcayaga reported.
A state can implement environmental restrictions to foreign companies, but if it signs a treaty, companies can appeal to international courts, explains the representative of Chile Cobre. "This has happened in Mexico where municipalities imposed environmental conditions to foreign investments, and lost the case," said Julian Alcayaga.
Lucio Cuenca, a member of the Latin American Observatory of Environmental Conflicts, also argued the false reality of free trade agreements and the possibility of international courts handing national sovereignty over to transnational corporations. "Free trade agreements are only free in name. They set up instruments that protect foreign investments. Chile lends its sovereignty to ensure foreign income and if it doesn't comply with foreign capital, transnational corporations can sue it in international private courts."
An example of the negative effects of free trade agreements is the instability imposed on Chilean workers. Maersk, a Danish firm installed at the Port of San Antonio, whose main activity is the manufacture of refrigerated containers, closed some months ago leaving 1,209 unemployed. "This has a direct impact on what is happening in Chilean territories. There are many reasons why companies are closing, but many have to do with the mechanics and structure of treaties that protect them," said Cuenca.
Yesterday, due to the civil demonstration against the policies included in the FTAs, the Chamber of Deputies approved the request that the Government has to review in detail each and every treaty signed by Chile, as well as future agreements. "This reflects the position of social organizations against trade agreements that do not benefit citizens. It is essential that we work detailed studies in order to accept or reject a treaty. Chile has 26 free trade agreements and its dire consequences have gone out of control," concluded Lucio Cuenca, a member of the Latin American Observatory of Environmental Conflicts.
---