Colombia keen on free trade deal with NZ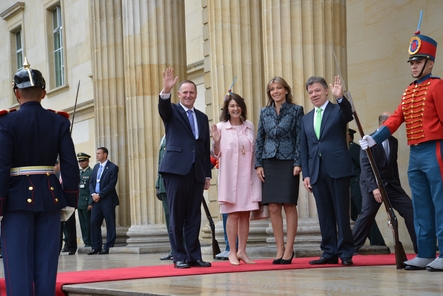 Radio New Zealand | 7 March 2013
Colombia keen on free trade deal with NZ
Mr Santos met with Prime Minister John Key in the capital, Bogota, on Wednesday.
Following the meeting, Mr Santos told reporters that Colombia is opening up and has free trade agreements with a number of other countries including the United States, Korea and all other countries in Latin America.
"We would love to have a free trade agreement with New Zealand when New Zealand is ready to start negotiations. In the meantime, the more we receive your investment and technology, the better we would be - not only for this free trade agreement but to continue trading with the world."
Colombia has a population of just over 45 million people and is one of New Zealand's smaller trading partners in terms of value, with just over $13 million worth of exports to the country last year.
However, its economy grew by 5% last year, and John Key is keen for New Zealand exporters to tap into that growth.
Mr Key pledged to support Colombia in a bid to become part of the Organisation for Economic Co-operation and Development (OECD).
The Prime Minister and a 22-strong delegation will next travel to Chile as part of a 10-day trip to Latin America, which also includes Mexico and Brazil.
---