Critics to ask Bush to halt FTA talks
Bangkok Post, 29 June 2004
Critics to ask Bush to halt FTA talks as public not consulted
Pact with Australia 'will ruin farmers'
Preeyanat Phanayanggoor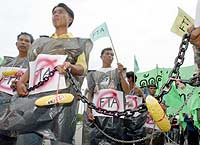 Opponents of free trade agreements will submit a letter to President George W Bush through the United States embassy today, urging Washington to halt ongoing trade negotiations between the two countries because the Thai process was not transparent without public participation and in violation of the Constitution.
Jacques-Chai Chomthongdi, of Focus on the Global South, said many issues to be covered in the negotiations, particularly drug patents and the lifting of a ban on genetically modified organisms, would adversely affect the poor in the country; however, the government was rushing into the negotiation process without sounding out public opinion.
The first round of talks started yesterday in Honolulu and will end on Friday.
"We are not against the idea of a Thai-US FTA but we want the process to start after proper research on its effects on economic, politics and society has been finished, a public forum has been held and the FTA contents have been debated in parliament,'' he said.
Yesterday around 300 protesters gathered in front of Government House to protest against government plans to seal free trade pacts with different countries.
Senator Jon Ungpakorn of Bangkok said the gathering showed that people wanted to be part of the negotiation process but the government was trying to bypass them.
The opponents also slammed the government's intention of signing an FTA deal with Australia next week, saying this would bring disaster to the Thai agricultural sector, particularly 150,000 dairy farmers and one million non-diary farmers who would be adversely affected by the pact as they would be unable to compete with the more advanced Australian farmers.
Only telecommunications, automotive parts and steel industries would benefit, they said in a statement, which also warned the public to keep a close eye on the Thai-US FTA, since the Thai government allowed the US to include sensitive issues such as intellectual property and market access for agricultural commodities in the framework of negotiations.
[NB: The text of the letter submitted to Bush is here.]
---