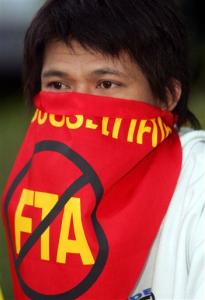 The US and Thailand started negotiations on a comprehensive bilateral free trade agreement in June 2004.
Like other recent bilateral free trade agreements with the US, the US-Thailand FTA will cover investment, services, government procurement, intellectual property, as well as agriculture. Many expect it to be modeled on the US-Singapore FTA.
The negotiations have attracted strong opposition and concern among many Thai social movements, farmers to people with HIV/AIDS. A broad civil society coalition, FTA Watch, was formed at the outset to closely monitor the process from a public interest perspective. (Likewise, business interests set up their own US-Thai FTA Coalition.) Under the banner of "sovereignty not for sale!", key issues of popular concern include access to medicine, GMOs in agriculture and patents on life.
The last round of talks took place in Chiang Mai in January 2006 with 10,000 people protesting in the streets and disrupting the meeting. Negotiations have not resumed since.
last update: May 2012
Links

---

A US campaign website on the Thai-US FTA

A coalition of activists, lawyers, NGOs, social movements and labour groups monitoring the US-Thailand FTA negotiations.