US farmers up in arms over additives ban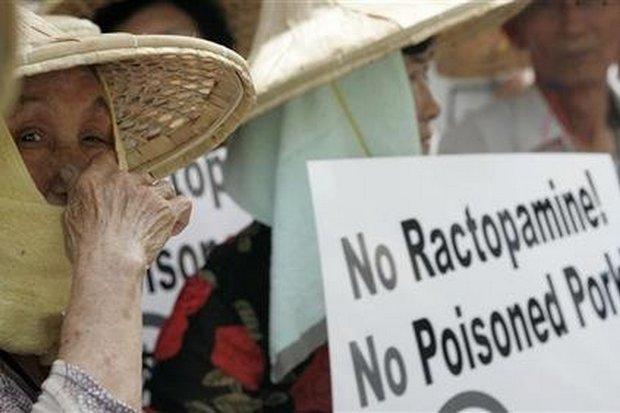 Bangkok Post | 30 May 2018
US farmers up in arms over additives ban
by Chatrudee Theparpat
A group of pork producers in the US is petitioning the Office of the United States Trade Representative (USTR) to consider cutting the Generalised System of Preferences (GSP) granted to Thailand, in protest against Thailand's refusal to import pork containing ractopamine, a cabinet meeting was told on Monday.
Ractopamine is a feed additive, banned in most countries, to promote leanness in animals raised for their meat.
GSP is a US trade programme designed to promote economic growth in the developing world by providing preferential duty-free entry for up to 4,800 products from 129 designated beneficiary countries and territories.
In this regard, Thailand had told a previous meeting of the Trade and Investment Framework Agreement Joint Council (TIFA JC) that the country would only accept the set of residue limits for the veterinary drug ractopamine in animal tissues agreed by the Codex Alimentarius Commission, the United Nations food standards body, only when there are sufficient study results and scientific proof that the approved level of ractopamine residue is totally safe for consumers, said Nattaporn Jatusripitak, a spokesman for a deputy prime minister overseeing business affairs, on Tuesday.
Thailand and the US had therefore agreed to draft a joint plan to resolve this dispute over the ractopamine residue limits in pork and set up a committee to follow up on progress in the work, he said.
The US has agreed to submit scientific proof as requested for further research into the matter, he said.
Also on Monday, he said, the cabinet acknowledged the Commerce Ministry's presentation on information about the renewal of the GSP, which the US previously granted to Thailand for another three years, starting from Jan 1.
Currently, the US grants an import tax waiver on more than 3,400 types of agricultural and industrial product from Thailand, he said.
Last year, Thailand claimed GSP privileges worth US4.1 billion, a 4.57% increase on the same period in the previous year, he said.
---