De Gucht, NGOs, trade accusations after anti-TTIP protestors 'kettled' by police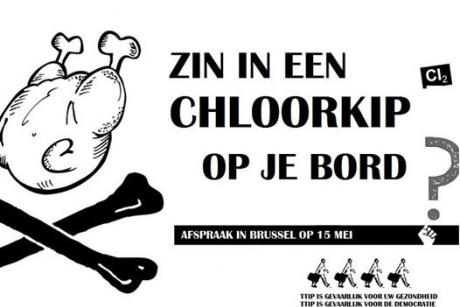 EurActiv | 19/05/2014
De Gucht, NGOs, trade accusations after anti-TTIP protestors 'kettled' by police
James Crisp
NGOs and trade unions today (19 May) hit back at accusations they were spreading lies on social media about the Transatlantic Trade and Investment Partnership (TTIP), as it emerged that Brussels Police used controversial "kettling" techniques and water cannon on protestors outside the European Business Summit.
Hundreds of anti-TTIP protestors, including a Green member of the Belgian Parliament, were encircled for several hours by riot gear-clad cops before being arrested en masse outside the Egmont Palace in Brussels, using a legal mechanism known as "administrative arrest". Administrative arrest allows groups of people to be held without charge for up to 12 hours.
>> Read: Hundreds of protesters arrested in Brussels as business leaders debate 'maintaining citizen's trust'
Shortly after an estimated 250 demonstrators were arrested on Thursday, EU Trade Commissioner Karel De Gucht and US Ambassador to the EU Anthony Gardner accused some protestors of spreading lies during a summit panel about TTIP, a trade deal between the EU and US. One example cited was that TTIP would mean Europeans being sold US chickens washed in chlorine.
This week, EU and US negotiators are meeting in Washington DC for the fifth round of negotiations. They are aiming to agree on a deal by the end of next year.
>> Read: EU-US clash over financial services in TTIP
De Gucht said, "You have the campaigns by the social media, groups using the social media, a number of NGOs spreading sometimes, I would say, complete lies, for example on hormone meat.
"This has now been taken over by, let's say the left side. Not all of it, but part of the left side of the political spectrum, the Greens, and also a number of far-left groups, who see in fact the TTIP as a topic to be discussed in the European elections and beaten in the European elections."
Ambassador Gardner also criticised the protestors. He said, "There's a void [in information]. The void is being filled more and more by social media [...] I bet you one thing; that the protestors outside were not holding a poster saying 'we want a job,' but they should have been."
Secrecy and transparency
Olivier Hoedeman, research and campaign coordinator of the Corporate Europe Observatory, a pressure group, was one of the demonstrators arrested. TTIP's critics believe it will lead to a lowering of European standards in areas such as food and climate change, he said.
Hoedeman said, "The protestors don't believe that TTIP is a solution to the jobs crisis. Demonising the people who are raising their genuine concerns in this way is very disrespectful."
Felipe Van Keirsblick, the secretary general of the Belgian trade union for employees, the CNE-CNG, was among the coalition of farmers, students, NGOs and unions protesting. He said that the TTIP negotiations should be more transparent and questioned Commission figures that state TTIP will lead to a 4% increase in GDP.
He said, "De Gucht's comments about social media show how uncomfortable and unused he is with a truly public debate over this trade deal.
"I think they should not say that we are liars, especially because they have constantly refused to speak with us in public."
Van Keirsblick said his organisation had asked De Gucht's office for meetings but "he has always refused to meet us."
"The level of secrecy in the TTIP negotiations is unprecedented," he added.
The Commission has said that the TTIP negotiations are among the most transparent trade deals ever.
Kettling
Protestors were held in the "kettle" for about two hours before their arrest, forced to sit on the ground and placed in plastic handcuffs. At about 12:30 PM, they were bussed to a jail in the Etterbeek district. The last demonstrator was freed without charge at 6 PM. The protest began at 8 AM.
Campaigners claimed several protestors had sustained injuries and were sprayed with water cannon. EurActiv attempted to contact Brussels Police, but has not yet received a response.
Kettling is the name given to a police technique where a group of people are surrounded by officers and are prevented from moving from a small area. It has been criticised across Europe and Canada, not least because bystanders are often captured in the cordon. In March 2012, kettling was ruled lawful by the European Court of Human Rights following a legal challenge following its use by London's Metropolitan Police in May Day protests in 2001.
Van Keirsblick said the protests were non-violent but admitted that police told them any attempt to block the entry to the palace was illegal. After an attempt to block the entrance was stopped by a line of about 50 police, about 100 demonstrators began to walk back to the protest's starting place, outside the Palais de Justice.
He said: "As they walked back a second line of police blocked their way. They were kettled by 100 officers. They were families in there, people with no activist experience."
Hoedeman said at least one bystander uninvolved in the protest was caught in the kettle. Another source told EurActiv four people uninvolved in the protests were arrested.
"Just before the buses arrived to take us to jail, the police surrounding us put on balaclavas – you could only see their eyes – and then their helmets," Hoedeman explained. "It was intimidating, especially as this was a peaceful protest."
"Everybody was put in plastic handcuffs behind their back. When we arrived at the prison, there were about 30-40 people in cell."
Additional arrests were made as demonstrators outside the kettle reacted angrily to the arrival of police buses. Protest organisers are now planning an official complaint and a week of further action.
Pascoe Sabido, from the Corporate Europe Observatory, said, "How peaceful protestors have been treated is atrocious. But it must not detract from the reason we were in the streets in the first place. The continuation of the austerity that will come from the proposed EU-US free trade deal is only going to make European citizens and producers poorer, unhealthier, more precarious and lead us further into disaster. It's not policing attitudes that must change, it's the entire political system."
POSITIONS:
The US Mission to the EU underlines that TTIP negotiations "are not a secret", pointing out that the US negotiation objectives were notified to the US Congress and are
publicly available
.
On its website, it does however admit that "a degree of confidentiality" is necessary "until negotiations are concluded" but argues this is standard practice. "After negotiators have concluded negotiations of the agreement, the EU Council plus the directly-elected European Parliament will debate and then approve or reject the agreement – and the US Congress will do the same."
>> Read: TTIP 'Myth and Realities' page on US Mission website
TIMELINE: 19-23 May: Fifth round of TTIP negotiations
EXTERNAL LINKS:
---