Delhi dialogues opportunity for ASEAN to convince India to rejoin RCEP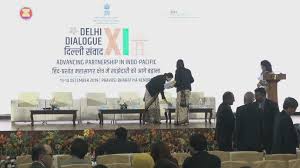 The Jakarta Post - 13 December 2019
Delhi dialogues opportunity for ASEAN to convince India to rejoin RCEP
Regional dialogues on Indo-Pacific cooperation set to be held in New Delhi this weekend will provide ASEAN countries with an opportunity to persuade India to rejoin a landmark trade deal it walked away from last month.
India will host the sixth Indian Ocean Dialogue and the 11th Delhi Dialogue on Friday and Saturday. The two events are the key elements of India's engagement with the Indian Ocean Rim Association (IORA) and ASEAN.
Jose Tavares, the Foreign Ministry's ASEAN director general, said the Delhi Dialogue was a 1.5 track dialogue that would be attended by government officials and political and economic academics and think tanks. Foreign Minister Retno LP Marsudi will give a keynote address at the opening session, he added.
India's withdrawal from the Regional Comprehensive Economic Partnership (RCEP) has not been included on the agendas of any key meetings, although there is a possibility the issue could be raised in subsequent panels, officials said on Thursday.
"Of course there is flexibility in the discussions, so any issues can be raised," Jose told reporters.
At the third RCEP Summit, held as part of the 35th ASEAN Summit in Bangkok last month, Indian Prime Minister Narendra Modi said India would withdraw from the RCEP agreement, citing concerns about India's trade deficit and an anticipated jump in imports.
Leaders of the 15 remaining countries have announced they had concluded text-based negotiations of the trade pact, but left the door open for India to rejoin the agreement.
Jose said ASEAN members could take advantage of various opportunities, including the two upcoming forums, to attempt to persuade India to remain part of the RCEP, but conceded that "in the end the final decision rests with India and its considerations regarding domestic issues."
Prior to India's withdrawal, the RCEP, initiated in 2012, included all 10 ASEAN member states and its six free trade agreement (FTA) partners. The 16 countries are home to 3.4 billion people and account for one third of the world's gross domestic product (GDP), making the RCEP a highly strategic agreement for its members.
However, disagreements between regional rivals China and India over access to India's giant consumer market have hampered negotiations and prompted India to withdraw from the pact.
Concerns have been raised that without India, the trade pact will be dominated by China, the biggest economy in the region, with Japan reportedly having expressed it was considering pulling out of the deal if India was not on board.
Japanese Ambassador to ASEAN Akira Chiba said India's participation was necessary to maximize the potential for economic integration. "Japan has been working to resolve these issues in cooperation with ASEAN and other countries and will further strengthen efforts to do so. Japan is committed to playing a leading role in the signing of the RCEP agreement by all 16 countries in 2020."
Indonesia and other RCEP members have attempted to persuade India via bilateral engagements and within the ASEAN framework, Jose said.
In New Delhi, the foreign ministers of Indonesia and India will lead a joint commission meeting to discuss defense, security, economic cooperation and people-to-people connections and follow up the bilateral discussion between the leaders of the two countries last month, Foreign Ministry spokesperson Teuku Faizasyah said.
"On the defense and security front, there have been a series of meetings to look into the possibility of closer cooperation in defense industry development between Indonesia and India," he said.
Meanwhile, on the economic front, the two countries will focus on building connectivity between Aceh and India's Andaman and Nicobar islands to unlock business potential with the goal of increasing bilateral trade to US$50 billion by 2025.
After New Delhi, Retno will fly to Madrid to attend the 14th Asia Europe meeting on Sunday and Monday, which will focus on strengthening multilateralism.
"Indonesia will pay greater attention to efforts to build hard connectivity and soft connectivity with a focus on how we can use economic cooperation between the Asian and European regions to our benefit," Faizasyah said.
Retno is also scheduled to hold bilateral meetings with her counterparts from Austria, Denmark, Finland and Kazakhstan.
---