Developments in the EU-Mercosur Association Agreement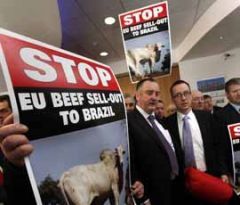 CAP 2020 | 14 April 2011
Developments in the EU-Mercosur Association Agreement
A Mercosur trade agreement in relation to agriculture has the potential to have significant knock-on impacts on the environment. With talks expected to conclude by July 2011, there are significant concerns being raised about the impact, not only on the EU's agricultural sector, but also what this might mean environmentally.
In May 2010, the European Commission re-launched official trade negotiations with the Mercosur trading bloc (Argentina, Brazil, Paraguay, and Uruguay) to strengthen their relationships through the negotiation of a new EU-Mercosur Association Agreement, after previous talks stalled in October 2004. Since then, delegations from both parties have continued to meet in order to advance trade talks with the fourth round of negotiations having recently been completed in Brussels.
Eleven working groups held discussions during the recent meeting of the EU-Mercosur 20th Bi-Regional Negotiations Committee (BNC) where discussions were firmly centered on the standard elements of the Association Agreement, including rules of origin, public procurement, services and investment, competition and dispute settlement - to date no discussion of market offers or concessions have been presented. So far there has been little reference to the potential environmental implications of the proposed agreement, with negotiations focusing more on economic and social issues. No official comments have been released by either party regarding details of the outcome of the meetings but EU Trade Commissioner Karel de Gucht was recently quoted as being confident that an agreement could be reached in a 'short time'. However, the Agreement has been met with increasing hostility from politicians and industry representatives since talks between the trading partners were re-launched.
The European Parliament has shown some opposition to the proposed agreement. Following the adoption of a non-legislative resolution drafted by MEP Georgios Papastamkos (supported in draft by COMAGRI chair Paolo de Castro), on EU agriculture and international trade, the European Parliament stressed that EU trade policy should not jeopardise the region's ability to maintain a strong agricultural sector given that food safety standards in the Mercosur countries do not match those in the EU. It openly criticised the Commission's approach which "far too often makes concessions on agriculture in order to obtain enhanced market access in third countries for industrial products and services" calling on the Commission to "stop putting agricultural interests behind the interests of the industrial and services sector." The European Parliament has also called for an immediate impact assessment on the implications for the EU farm sector .
EU Farm Commissioner Dacian Ciolo has also added his comments to the debate in line with those of his European Parliament counterparts, adding that there is a lack of consideration around the regulatory burden facing EU and trading partners to resolve any trade imbalances caused by Free Trade Agreements (FTAs). Amid increasing concerns, Commissioner Ciolo? has attempted to calm ministers by reassuring them that any market access offers will be shared with member states before any offer is placed on the table. Commissioner Ciolo? also highlighted the potential gains for EU farmers in sectors such as spirits, cheeses and dairy products, wines and olive oil.
Furthermore, COPA COGECA has spoken out against the EU-Mercosur Association Agreement stressing that it would lead to "a total collapse of the EU beef sector." Their report, published on 4 March 2011 estimates that trade liberalisation with the Mercosur bloc will lead to EU farmers experiencing direct losses from prime cuts amounting to €16 billion and indirect losses from lower beef prices of around €9 billion in the EU beef sector alone. DG TRADE Commissioner spokesperson John Clancy has played down such claims, suggesting that support provided under the CAP will protect EU farmers and cover the higher costs.
The potential impacts of the Agreement on the beef sector also have implications for the environmental sustainability of the agreement. Anticipated increases in beef production in the Mercosur bloc, and expected reductions in beef production within the EU, potentially could result in land use change in both the EU and in Mercosur countries. COPA-COGECA's findings echo those of the EU-Mercosur trade sustainability impact assessment as well as a separate study conducted by DG AGRI evaluating the livestock sector's contribution to the EU greenhouse gas emissions (GGELS) both of which predict increased GHG emissions in response to Land Use Change (LUC) from expanding livestock (particularly beef) production in Mercosur countries. The trade sustainability impact assessment goes on to caution that the expansion of agricultural production in Mercosur countries will also lead to a loss in global biodiversity, increased deforestation, and further land and water use pressures, and that these impacts should be given due consideration in future EU-Mercosur trade negotiations.
The European Commission have also confirmed that a Commission Impact Assessment on the Association Agreement is currently underway and due for publication soon.
Following Brussels the next round of negotiations is scheduled to take place in Asunción, Paraguay during the first week of May.
---