Dhaka's lukewarm response delays FTA signing with KL : Envoy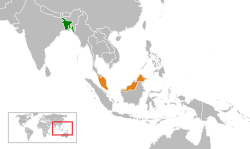 Financial Express (Bangladesh) 23 Sep, 2014
Dhaka's lukewarm response delays FTA signing with KL : Envoy
FE Report
The planned free-trade agreement (FTA) between Bangladesh and Malaysia for enhancing bilateral trade and economic cooperation could not be signed for lukewarm response from Dhaka, the Malaysian envoy said Monday.
"We were ready to sign the agreement, but the Bangladesh side did not respond accordingly," Norlin Othman told a meet-the-press programme at the National Press Club in Dhaka.
"Probably the government was too busy with the national elections," said the envoy, who also spoke on polls and political situation, state of democracy in Bangladesh.
The diplomat, who attended the meet despite a countrywide hartal enforced by the BNP-led alliance, termed the strike part of a democratic process in Bangladesh but found it as one of the discouraging factors for investment — both domestic and foreign.
"In Bangladesh, you've a very vibrant democratic process. Hartal is part of your democratic process. That's your right because this is allowed in your country," she said.
The envoy expects that the FTA deal may be signed after the commerce minister's visit to Malaysia.
Minister Tofail Ahmed is likely to go to Malaysia in November in connection with 'Showcase Bangladesh' branding campaign.
The Malaysian high commissioner, however, suggested that Bangladesh should diversify its products and make high-end products to increase export to his newly industrialized country.
"Diversification of products is urgently needed for increasing the export and the country should take immediate steps in this regard," she added. Cheaper products are not a matter of buyers—they look for better goods and ready to pay more for quality products.
Currently, the export items of Bangladesh to Malaysia are mostly low-end, such as textiles and clothing followed by consumer goods like vegetables, roots, tubers and other farm products and processed foods.
These items face stiff competition with products coming from China, India, Pakistan and other neighbouring countries.
Bangladeshi exporters are also facing uneven competition with the exporters fro India and Pakistan who are enjoying duty-free access to Malaysia.
Businessmen hope that there would be a level playing ground for Bangladesh's exporters once Dhaka and Kuala Lumpur sign the FTA.
Free-trade deal, they said, would also offer bigger opportunities of expanding both trade and investment to the businesses and entrepreneurs of the two countries.
In the last fiscal (2013-14) Bangladesh exported merchandise worth about 135.646 million US dollars to Malaysia as against its imports worth about 1.5 billion dollars.
In order to reduce the yawning trade gap, Bangladesh is working on securing bilateral free-trade agreement with Malaysia.
To attract more foreign investment, the Malaysian high commissioner also stressed the need for further development of the country's infrastructure, power and energy, roads, ports and communications system.
"The country has huge potential to attract foreign investment, but poor infrastructure, underdeveloped roads and communications system and power-and energy-supply situation are the main obstacles," the diplomat told the journalists.
Asked about alleged siphoning money to Malaysia by Bangladeshis in the name of 'Second Home' destination, the high commissioner said some 2,923 Bangladeshis are settled in Malaysia under the 'Malaysia My Second Home (MM2H)' programme.
They are all doing business in Malaysia, taking the second-home opportunity. "They are not taking out money, they are doing business," she added.
Norlin also pointed out that some 500,000 Bangladeshis are now living in Malaysia, including some undocumented workers, whose number might be around 180,000.
Among all immigrants, the highest number of undocumented Bangladeshi workers is legalized in Malaysia over the years, she said.
According to sources, about 1.4 million people registered in order to go to Malaysia on employment through government channels. Of them, only 5,000 got the opportunity.
Asked about the matter, she agreed that the process had been slowed down but said that the Malaysian government was committed to taking workers through G2G process to avoid fraud from any Malaysian company.
"You know, there was no quota. It depends solely on demand-and-supply situation," said the diplomat. "Whenever there is created any demand, we invite you immediately."
Regarding recruitment of Bangladeshi workers, Norlin, however, pointed out that apart from plantation projects, Malaysia is looking forward to recruiting Bangladeshi workers for its construction and light machinery sectors.
In this connection, the envoy said, the Malaysian human resource development minister visited Bangladesh last month. Following his visit, a joint taskforce has been working to find out modalities to recruit more workers from Bangladesh for Malaysia's construction and light machinery sectors.
The high commissioner noted that since Bangladesh and Malaysia share common values as moderate Muslim countries, the two have cooperation at different levels in international forums, including the OIC and the Commonwealth.
The envoy billed the bilateral relations between the two countries as excellent and said that is benefiting the two peoples.
General Secretary of the Press Club Syed Abdal Ahmed gave the address of welcome at the function and Kazi Rownak Hossain, Vice-President of the club, moderated the discussion.
---