Divided EU lawmakers postpone vote on US trade deal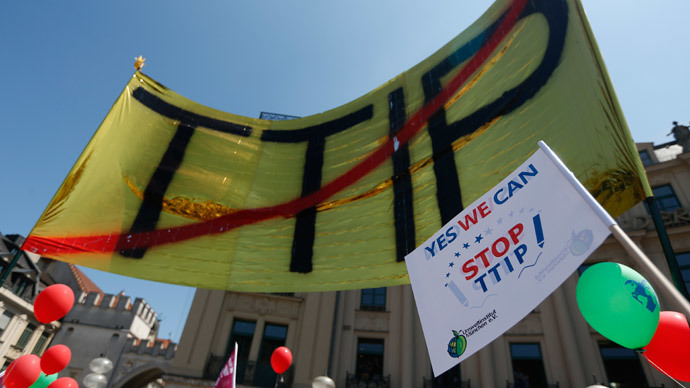 Reuters | 9 Jun 2015
Divided EU lawmakers postpone vote on U.S. trade deal
BRUSSELS | BY ROBIN EMMOTT
The European Parliament failed on Tuesday to agree a unified stance on a proposed trade deal with the United States, postponing a vote that was meant to cement its support for the biggest accord of its kind.
The failure to agree on a resolution meant that the parliament would merely debate the proposed deal in Strasbourg on Wednesday, but not hold a vote, highlighting the growing doubts in the European Union about its benefits.
Negotiations on the Transatlantic Trade and Investment Partnership (TTIP), which would encompass a third of world trade, are still under way but, because the parliament has the power to reject any final deal, it must set out its position during the process.
EU lawmakers preparing the resolution received more than 200 proposed amendments, meaning it was highly unlikely to pass, prompting parliament president Martin Schulz to postpone the vote to avoid the public embarrassment of having the resolution defeated.
"One could call it failure," tweeted centre-right lawmaker Daniel Caspary of the European People's Party (EPP).
Far-left, far-right and Green lawmakers who are determined to block the pact seized on the postponement as a sign that the deal was in danger, but aides to centre-right and centre-left lawmakers told Reuters that a vote was still likely to be held after the summer.
"The European Parliament's establishment in is panic that the vote will reveal the clear divisions," said French Green Yannick Jadot.
While an accord will not be ready before 2016, the European Parliament must establish its position much as the U.S. Congress must decide whether to grant President Barack Obama "fast-track" powers to negotiate trade deals.
The parliament's positions have become harder to predict since last year's European elections, in which anti-EU parties did well.
Much of the discord focuses on how companies settle disputes under the pact; lawmakers fear that U.S. multinationals will challenge European laws on grounds that they restrict free commerce.
Washington says it considers the issue of investment arbitration non-negotiable because EU governments have secured some 1,400 investment protection agreements since the 1960s.
Critics of the deal also fear it will be detrimental to food safety and the environment.
"It is high time for the negotiators to take stock and stop the negotiations," said Natacha Cingotti, a campaigner at Friends of the Earth Europe.
(Editing by Kevin Liffey)
---