Economics minister in Brazil to boost trade talks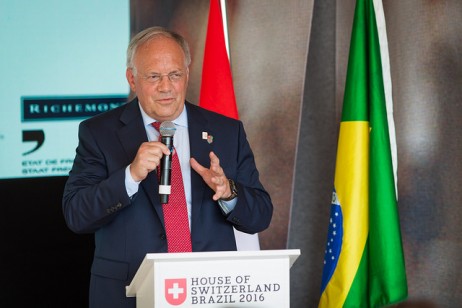 Swiss Info | 29 April 2018
Economics minister in Brazil to boost trade talks
Swiss economics minister Johann Schneider-Ammann has arrived in Brazil on a six-day visit to the region aimed at boosting talks on a free trade agreement with the South American economic area Mercosur.
In addition to Brazil, Schneider-Ammann will also visit the other Mercosur states of Paraguay, Uruguay and Argentina, according to a government press release on Friday.
He is accompanied by a delegation from business, science, agriculture, parliament and government. Representatives of Swiss agriculture, which is divided on free trade with Mercosur, were invited to participate for the first time. In February, the Swiss Farmers' Union boycotted a debate on the agreement to which the economics minister had invited it.
+Read more about agriculture and the Mercosur agreement
Johann Schneider-Ammann's visit to the Mercosur countries aims to give impetus to talks on a trade deal between the South American bloc and the European Free Trade Association (EFTA), which comprises Switzerland, Liechtenstein, Norway and Iceland. He will also "stress the importance and the advantages that it holds for all parties", according to the press release.
Switzerland wants an agreement with Mercosur quickly, because the European Union is close to an agreement with those countries and if it reaches a deal before Switzerland, Swiss exporters would suffer.
---