Egypt courts China for Suez special zone
Financial Times | March 2 2010
Egypt courts China for Suez special zone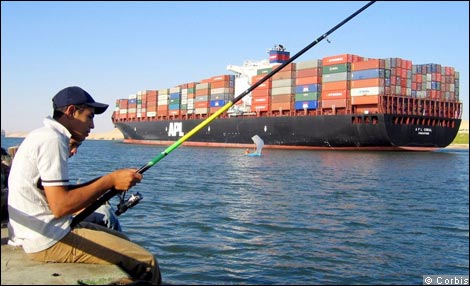 By Tom Mitchell in Hong Kong
One of China's premier investment zones is expected soon to replicate its successful development model near the southern approaches to the Suez canal, according to Egypt's investment minister.
The Egyptian government is negotiating with the Tianjin Economic-Technological Development Area, which it is courting to help build the Suez Economic Zone. Under Egyptian law, TEDA could take up to a 49 per cent stake in the $1.5bn (€1.1bn, £1bn) project.
"SEZone is going to be the first of its kind linked to a big investor," Mahmoud Mohieldin told the Financial Times in an interview. "The final negotiations will hopefully be taking place very soon."
The attraction for the Chinese is partly the large number of preferential trade agreements that Egypt has with Europe, Africa and the Middle East.
The extractive nature of Chinese state companies' involvement in sub-Saharan Africa and the Middle East, where they seek natural resources in return for infrastructure investments, has courted controversy. Critics fear that China is more concerned with fuelling its own fast-growing economy than fostering development in the region.
Chinese companies have also proven adept at seizing market share for everything from cheap consumer goods to telecom equipment in Africa.
But SEZone's manufacturing focus would make TEDA's investment much less controversial. The zone's success back in its home city of Tianjin makes it a natural partner as Egypt seeks to position itself as an export gateway to both Europe and Asia.
"We are not rich in natural resources – they are not after our oil or natural gas," Dr Mohieldin said on the sidelines of an investment conference in Hong Kong. "Manufacturing is an easier sell because every country likes to see more factories and more workers."
While foreign direct investment into Egypt fell 40 per cent last year to $8.1bn, China continued to pour money into the north African country, becoming its largest investor for the first time.
Situated to the east of Beijing on the Bohai Bay, TEDA has secured major investments from multinationals such as Akzo Nobel, IBM and Toyota. Dr Mohieldin is optimistic that SEZone will attract up to $3.5bn in investment over its first three years of operation, with TEDA expected to establish its first China marketing office for the new Egyptian zone by June.
"We want [the Chinese] to create jobs for Egyptians," said Tarek Kamel, minister for communications and information technology. "They can use the growth of the market and enjoy the growth but also help us with our social-economic development."
The investment minister credited SEZone's genesis to a China visit by Egypt's president, Hosni Mubarak, in the late 1990s. It took the Egyptian government three years to draft the legal framework for the zone and another two to acquire its initial six sq km of land from previous owners. An international tender for a zone development partner was issued in late 2007.
SEZone is intended as the first in a series of state-led development zones targeting manufacturing investment. Egypt is in discussions with Singapore, which has built large-scale development zones in China and India, about a similar project on its Mediterranean coast near Alexandria.
An Egyptian government delegation is also scheduled to visit India on March 15. There they will pitch a project linking three cities on the Nile to the Red Sea via a 412km expressway. "We are unleashing our potential through competition," Dr Mohieldin said.
Additional reporting by William Wallis in London
---