EU-Fiji Cotonou talks begin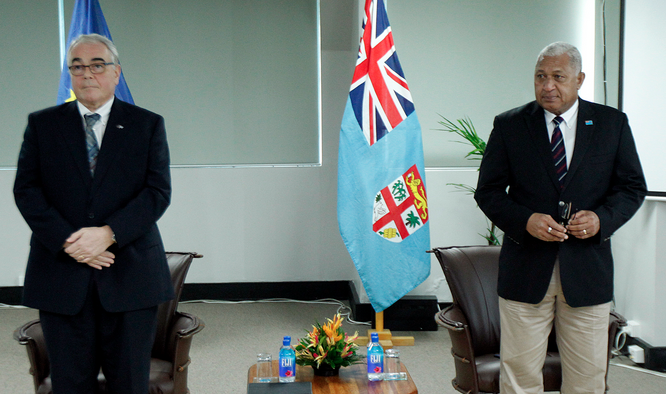 Fiji Times | 23 May 2018
EU-Fiji Cotonou talks begin
by Vilimaina Naqelevuki
THE Third high-level political dialogue between Fiji and the European Union under article 8 of the Cotonou ACP-EU partnership agreement began in Suva today.
Prime Minister Voreqe Bainimara said the dialogue was important as it would lay the ground work for their Ministerial meeting in Togo later this month.
"There we will propose a new arrangement between the European Union and the African, Caribbean and Pacific Group pf states and Fiji is a proud member of the ACP group," Mr Bainimarama said.
He added, Fiji would push for a greater focus on sustainable, resilient development and space in accommodating developing climate vulnerable small island states.
The dialogue will cover political and economic developments in Fiji and EU and other aspect including the upcoming general elections, climate change, economic partnership agreement, human rights and development cooperation.
EU's Ambassador to the Pacific Julian Wilson said the dialogue would focus on these discussions and outline the goals that has been set out for 2018 and 2019.
"Over the next two day, we will review how we've done over the last year, detail the goals you have set us for 2018 and 2019 and identify what practical actions we can implement to realise those goals," Mr Wilson said.
The dialogue ends tomorrow.
---