EU free trade deal will trap Vietnam in low-wage, low-skill cycle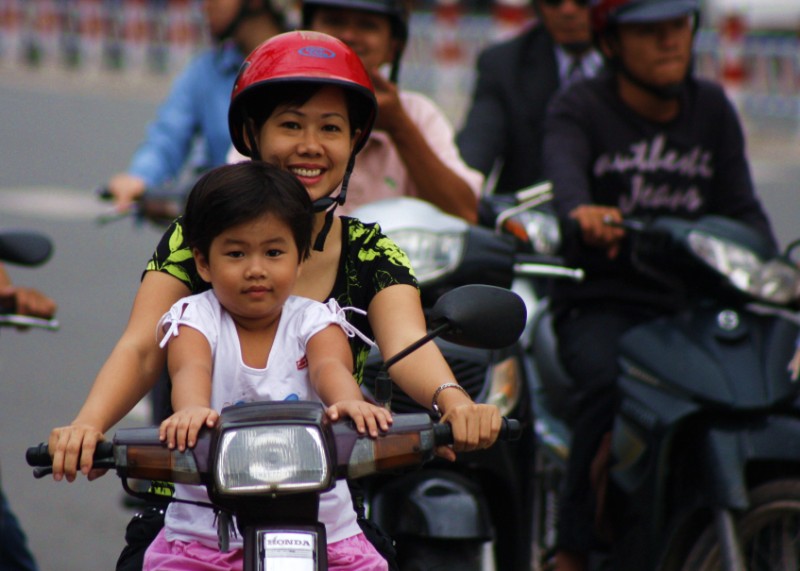 EurActiv | 15 March 2016
EU free trade deal will trap Vietnam in low-wage, low-skill cycle
By Ruth Kelly, ActionAid
The EU Ombudsman criticised the Commission this month for failing to provide an audit of how its Free Trade Agreement with Vietnam would affect human rights before signing off the deal. Ruth Kelly, explains how it will trap Vietnam in a low-profit-low-wage cycle.
Dung is 31. She works in a footwear factory in Vietnam and rarely gets a day off. She has high hopes for her 5 year-old daughter and new baby son. Rather than working in the shoe industry and mining sector, like their parents and grandparents before them, Dung hopes that they will have the opportunity to study and to get good jobs in medicine and engineering.
New research from ActionAid shows that the recently signed EU-Vietnam Free Trade Agreement might prevent them from achieving this dream. By pushing the country into low-profit, low-wage sectors, the deal is likely to undermine workers' rights.
On 3 March, the EU Ombudsman ruled that the Commission's failure to assess the potential impact of the deal on human rights constituted maladministration.
Negotiations on the deal were concluded in December 2015. The next step is to bring the deal before the Council of Ministers and the European Parliament for ratification.
In a 2013 study, the Commission found that the deal is likely to lead to a major shift in Vietnam's economy, away from producing machines and motorbikes and towards mass production of cheap clothes and shoes.
Until now Vietnam has been a good example of the way economic growth can be key driver of tackling poverty – as long as it is done right. The country has shown itself to be remarkably dynamic and entrepreneurial in creating jobs through new industries.
GDP per capita has tripled in just ten years. Impressively – and in stark contrast to many other countries – the rise in wealth has been spread relatively equitably. According to the World Bank, the income of the bottom 40 percent of Vietnamese has grown by 9 percent per year since 1993 – making it one of the fastest rates of improvement in welfare in the world.
A good example of this success has been Vietnam's motorcycle industry. Vietnam is the fourth largest motorcycle market in the world with 37 million bikes on the road. The country originally started off by assembling bikes using parts imported from abroad. Today, it manufactures many of its own parts at lower costs, creating new jobs which in turn help reduce poverty.
But the new deal could undermine this success. Relatively profitable motor vehicle and parts, electronics and machinery sectors will see a decline. The jobs created in footwear and leather sectors are likely to be badly paid.
Pressure from global brands to supply shoes and clothes cheap and fast will force Vietnamese factories to cut costs, pushing wages down and exposing Vietnam's workers to the kind of terrible working conditions responsible for the 2013 Rana Plaza disaster in Bangladesh.
Arguably, there is a stronger emphasis on social rights in Vietnam than elsewhere in Asia. But labour rights have been undermined as the country has opened up. The minimum wage, originally set at a "living wage" level, has been cut and overtaken by inflation, and the bargaining power of state-sponsored unions has been weakened while additional trade union options are not facilitated.
The economy is increasingly dominated by low-skilled assembly work in electronics, garments and footwear factories where according to Cornell professor Angie Tran, "mostly young female workers join the labor force with non-liveable wages and substandard working conditions".
In Vietnam, ActionAid is facilitating discussions between more than 8000 workers and their employers to improve working conditions. ActionAid research found that women working in Vietnam's factories worked between 9 and 15 hours a day. Their wages are often delayed and financial penalties are imposed if they take a day off. When factories fail to obtain orders, hours and wages are reduced accordingly.
ActionAid's report shows that global rules stop developing countries from using policies that rich countries once used to support new, profitable industries and to drive the creation of well-paid jobs.
But a growing number of countries is pushing back against TTIP-style deals that prevent them from getting the best out of foreign investment and global trade. If they match these efforts with cooperation to protect workers' rights, developing countries can lift their economies out of low-profit, low-pay activities.
Rich countries and trade blocs like the EU should review trade deals to ensure poor countries can use economic policy to drive equitable growth and create decent well-paid jobs. Global rules must give at least as much protection to workers as they do to investors.
---