EU FTA almost dead, India now eyes post-Brexit UK
Times of India | 19 July 2018
EU FTA almost dead, India now eyes post-Brexit UK
by Indrani Bagchi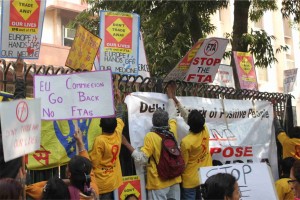 NEW DELHI: The India-EU free trade agreement (FTA) is on the verge of death. In a few days, the two sides are expected to formally state, in diplomatic language, that FTA talks may no longer be resumed.
The EU has asked for two weeks to decide whether to go back to the table at all after India wrote to them. Sources say they are close to the conclusion that resumption of negotiations would be a fruitless exercise.
There have been no negotiations since 2013. In 2017, both at the India-Germany summit in June and the India-EU summit in October, there was an attempt to restart negotiations. But nothing happened.
Questioned, an EU official told TOI, "Following the EU-India summit last October, EU and India had extensive and frank exchanges at political, chief negotiator and experts' levels to evaluate whether conditions were right to resume negotiations. Both sides are now in the process of assessing the outcomes of those talks. For the time being, the EU-India trade negotiations have not been resumed."
This comes at a time when EU has just signed its biggest ever trade deal with Japan and is negotiating another with New Zealand.
There is enough blame to go around. European officials complain that India shows no flexibility in its trade negotiations, in particular, three areas where they want greater market access: dairy, automobiles and wine. EU officials TOI spoke to also said in the past five years, India is a very different kind of economy, so the old rules of negotiations cannot apply.
India, on the other hand, says EU has been rigid in giving access to services, while new data security and transparency laws will affect many Indian companies. Indian officials say EU Commission head Jean-Claude Juncker has been the most tough. In fact, in 2015-16, EU officials told India they had no time for New Delhi since they were then negotiating the TTIP with the US.
Indian negotiators now say India might be better off waiting for Brexit to happen before looking at EU. The UK has the lion's share of India-EU trade and investment, and all signs appear to show that the UK is keen on working out a trade deal with India as they near their separation date. On the other hand, the UK's departure might make FTA talks with EU easier — UK is the biggest block in denying Indian services entry into EU.
---