EU hauled to court over secrecy in India trade talks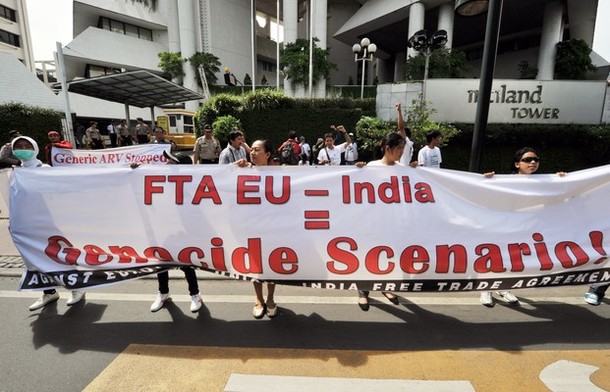 Reuters | 15 February 2011
EU hauled to court over secrecy in India trade talks
– Activists challenge secretive EU trade negotiations
– EU withheld details of export plans shared with industry
– Law suit intensifies pressure for EU transparency
– Commission says needs to protect foreign relations
By Juliane von Reppert-Bismarck
BRUSSELS, Feb 15 (Reuters) — Transparency campaigners have hauled the European Union's executive to court for withholding documents about free trade talks with India, intensifying pressure on the bloc to make its policy-making less secretive.
The lawsuit, lodged with the EU's second-highest court on Tuesday, accuses the EU Commission of breaking transparency and democracy rules by refusing to disclose to campaigners details of plans shared with EU industry on how to open Indian markets.
"Industry lobbies enjoy massively privileged access and influence in trade negotiations, even when there are concerns from other quarters that this is threatening Indian labour rights and access to medicines," said Pia Eberhardt, campaigner for Corporate Europe Observatory, which lodged the complaint.
Campaigners are focusing on India because the EU is expected to complete a free trade agreement with the rapidly developing nation this year following almost four years of negotiations.
The case, lodged in the European General Court, concerns the Commission's refusal over 18 months to give campaigners full access to email exchanges and notes from meetings with EU governments and business groups about how to export more pork, poultry, medical equipment and car tyres to India.
The Commission deleted key passages from the notes before giving them to the Observatory, citing rules to protect international relations, according to documents obtained by Reuters.
"If the Commission has already shared information with the business world at large, the same information cannot suddenly become confidential when a public interest group asks for it," Eberhardt said.
The claim says the Commission sent full notes to lobby groups including BusinessEurope, the EU's largest employers' organisation.
In a handwritten note also submitted in the claim and seen by Reuters, former EU trade chief Peter Mandelson invited BusinessEurope to share sensitive information with India's largest business group — a move the challenge says voids confidentiality claims.
TRANSPARENCY PRESSURES
EU institutions are under increasing pressure to lift the veil of secrecy shrouding much of its decision-making.
More than 240 campaigners and journalists this month asked the European Parliament to act against a Commission plan to tighten access to information laws, and civil rights groups have sued twice over secrecy in the drafting of EU transparency law.
Environmental groups took the Commission to court last year for withholding details about the potentially harmful impact of biofuels on the environment.
An internal EU watchdog lambasted the executive for withholding related letters by carmaker Porsche to a former EU industry chief.
EU-India trade negotiations have prompted protests in India, the EU and Kenya amid concerns a pact will limit India's production of cheap generic HIV and anti-malaria drugs, sold widely across Africa and South America.
They have also triggered fears that opening India's retail sector to supermarket chains such as Carrefour, Tesco and Metro will lead to unemployment among the country's vast ranks of street vendors and small shopkeepers.
The Commission has cited the protection of international relations in its refusal to reveal details of meetings between EU officials and representatives of European pharmaceuticals companies including Sanofi-Aventis and GlaxoSmithKline, the Observatory said.
(Reporting by Juliane von Reppert-Bismarck ; additional reporting by Eva Dou, editing by Rex Merrifield/Maria Golovnina)
---