EU-Korea FTA remains stalled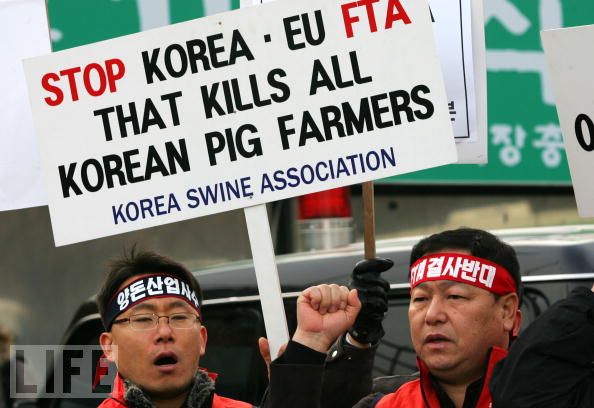 Business Standard | September 11, 2010
EU-Korea FTA remains stalled
Pallavi Aiyar / Brussels
Almost a year after the world's biggest economy, the European Union, initialled a free trade agreement (FTA) with Asian heavyweight South Korea, the process of getting approval for the deal remains stalled. A hoped-for green light from the European Council, which comprises 27 member-states, was not forthcoming on Friday, as EU trade ministers met to try and break the deadlock.
However, officials said approval for the deal was "very close" and might be reached by Monday. Italy has emerged as the most vocal FTA opponent and has been demanding a delay in implementation to give its car sector more time to prepare for the stiffer competition.
Earlier in the month, the European Parliament postponed a decision over the deal after it was unable to agree on the level of safeguards for the automotive sector, in the event of "serious injury" to EU car makers from a surge in Korean exports.
Korean car makers already have an important share of EU markets and their presence is growing. In the first quarter of 2010, Hyundai's car sales in Europe grew by over 10 per cent, year on year. Kia, Korea's other main car exporter, saw sales growth of almost 13 per cent, according to the Association of European Car Manufacturers.
On the other hand, Italy's biggest car maker, Fiat, saw its car sales in Europe drop by almost 10 per cent in the first quarter of the year.
The EU-Korea trade deal is possibly the world's most significant FTA since the North American Free Trade Agreement of 1994 between the United States, Canada and Mexico. It is expected to expand the ¤65 billion trade relationship between the EU and South Korea by up to 20 per cent. Under the FTA, import duties and other barriers on 96 per cent of EU goods and 99 per cent of South Korean exports will be scrapped within five years.
The clause in the limelight is the phase-out over three to five years of the EU's 10 per cent tariff on Korean cars. The eight per cent duty on European auto exports to Korea will also be eliminated over the same period.
The stormy passage of the Korea FTA points to the difficulties the EU has in delivering trade deals even after the details have been finalised. The EU's cumbersome procedures have been complicated by the adoption late last year of the Lisbon Treaty, that now requires additional parliamentary approval of all trade accords.
Thus, even if the European Council does authorise the FTA on Monday, as is now being hoped, the deal would still require Parliament's approval before coming into force.
---