EU, South Korea ink free-trade deal: commission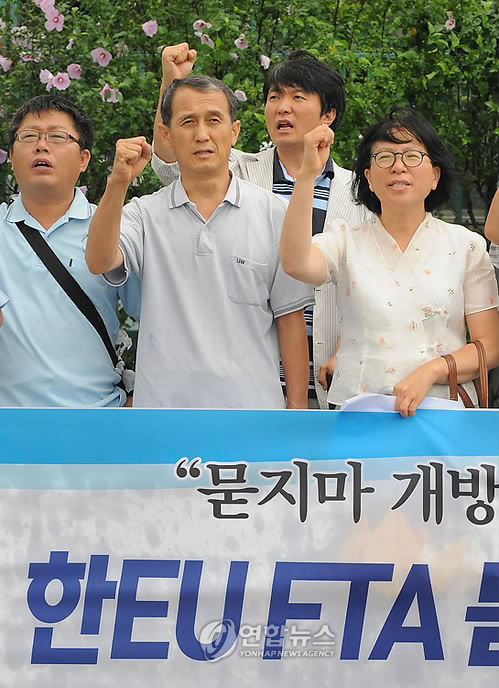 Agence France-Presse | 15 October 2009
EU, South Korea ink free-trade deal: commission
BRUSSELS — The European Union and South Korea on Thursday signed a free trade deal which Brussels said would be worth 19 billion euros (28 billion dollars) in new trade for EU exporters.
The accord, signed by EU trade commissioner Catherine Ashton and South Korean Trade Minister Kim Jong-hoon, removes virtually all tariffs between the two economies, a statement said.
"This agreement is particularly important in the current economic climate, helping to fight the economic downturn and create new jobs," said Ashton.
The EU was South Korea's second-largest trading partner after China in 2008, with two-way trade totalling more than 90 billion dollars (65 billion euros).
The two sides will phase out tariffs on 96 percent of EU goods and 99 percent of South Korean exports within three years after the pact takes effect, according to Seoul.
The Korea Institute for International Economic Policy has estimated the pact will eventually increase trade by up to 20 percent.
"It will create new market opportunities for European companies in services, manufacturing and agriculture," Ashton added.
EU officials said the pact should come into effect in the second half of next year.
The European Commission said the agreement also made "major advances in areas such as intellectual property, procurement, competition policy and trade and sustainable development."
The deal eliminates 1.6 billion euros of Korean duties for EU exporters as well as framing a drive to harmonise regulations and standards in automotive, pharmaceutical and consumer electronics industries.
South Korea has made further commitments to liberalise its telecommunications, environmental, legal, financial and shipping sectors, Brussels said.
Sticking points during lengthy negotiations were differences on duty drawback — which allows manufacturers to reclaim tariffs paid on imported materials that are used to make products for export — and rules of origin.
On the latter dispute, the two sides agreed on the level of allowable foreign content at 45 percent, according to the Korean trade ministry.
South Korean manufacturers import many parts from China — the object of a mini trade war with EU competition authorities — and elsewhere.
Seoul currently imposes an eight percent duty on European cars compared to the EU's 10 percent.
In an open letter to the European Union's 27 member states, the European Automobile Manufacturers Association last month urged Ashton not sign the agreement, saying its members would be hammered under the terms negotiated.
It claimed the EU's trade deficit with South Korea would increase from its current level of around 15 billion euros (22 billion dollars) per year and said the 1,000-page draft would give an "unfair competitive advantage" to South Korean manufacturers such as Hyundai.
---